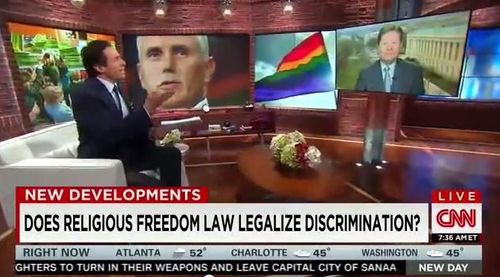 First Alabama Chief Justice Roy Moore, then retired neurosurgeon Ben Carson, and now Family Research Council's Peter Sprigg.
Chris Cuomo is definitely on a roll. 
On CNN this morning, Cuomo and Sprigg duked it out over Indiana's new "religious freedom" law, with Cuomo asking point blank:
"What is it about someone being gay or someone wanting to marry someone of the same sex — what is there in that that is keeping you from being the Christian you want to be?"
During the discussion, Cuomo also made sure audiences were aware of Sprigg and his hate organization's insane views on homosexuality. 
At the end of the segment, Cuomo challenged Pence to come on the show and defend the new law. 
Watch the fireworks, AFTER THE JUMP…