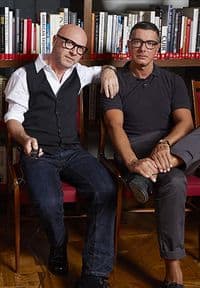 Domenico Dolce and Stefano Gabbana, the two men and former couple behind the Italian luxury fashion house Dolce & Gabbana, are once again letting the world know their thoughts on why same-sex couples shouldn't raise children.
"The family is not a fad," Gabbana declared to Panorama magazine according to a Google translation of Spanish outlet ABC. "No chemical offsprings and rented uterus: life has a natural flow, there are things that should not be changed."
Procreation "must be an act of love," added Dolce. Children born through artificial insemination or egg donors are "children of chemistry, synthetic children. Uteruses for rent, semen chosen from a catalog."
Back in a 2006 interview with an Italian newspaper, Dolce expressed similar views saying:
I am opposed to the idea of a child growing up with two gay parents. A child needs a mother and a father. I could not imagine my childhood without my mother. I also believe that it is cruel to take a baby away from its mother."
LGBT news outlet LGBT news Italia has responded by calling for a boycott of the D&G brand in the vein of last year's boycott of pasta maker Barilla, who made international headlines when its chairman told an Italian radio show that the company would never make an ad with gay people and if they didn't like it they could find another brand of pasta.
[h/t NCRM]