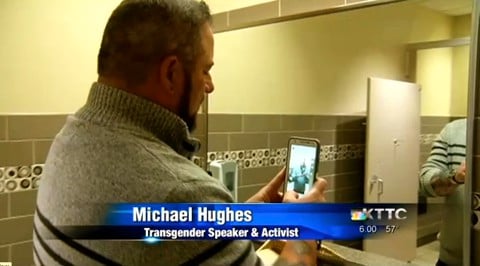 Michael Hughes, the Minnesota transgender activist behind the #WeJustNeedToPee campaign, says he endured intense bullying in high school and just going to the bathroom was a nightmare.
As we reported earlier this week, Hughes is the bearded, tattooed transman from Rochester, Minnesota, who followed the lead of a Canadian activist and began taking selfies in women's restrooms. The campaign is designed to highlight the stupidity of legislation in Minnesota, Florida and Texas that would bar transgender adults and students from using restrooms in accordance with their gender identity. 
In an interview with Rochester's KTTC-TV, Hughes explained how he does it: 
"So I come in, go right to the mirror with a female friend behind me, and we quick get the selfie, and get back out before anybody comes in and gets startled by my presence in the women's restroom," Hughes said, pointing his cell phone at the mirror of the women's restroom at the People's Food Co-op. … 

"I'm hoping that even the most conservative lawmakers and voters will be able to look at them, take a step back," said Hughes.
Although the Minnesota bill, which deals with schools, wouldn't affect Hughes, he said the campaign is ultimately about trans youth: 
"Those youth, those 16, 17-year-old people just coming to terms with who they are. It's going to hurt them. It's going to be tremendous," said Hughes.

Hughes worries the bill could make things more awkward with an already vulnerable group.

"Just going to the bathroom in high school was a nightmare for me," Hughes said, thinking back to his own experiences. "I would get nauseous just at the thought of having to go."
Hughes told The Rochester Post-Bulletin that like many transgender youth, he once tried to take his own life:  
"That's the most vulnerable part of our community. That's pretty scary for me," he said.
When Hughes was in high school, Hughes said he endured intense bullying because of his gender identity. He became suicidal at age 16 and attempted to end his life at 19. He said he wants to gather a group of transgender individuals and supporters and travel to St. Paul to urge lawmakers to reject these proposals.
Watch KTTC-TV's report and check out some of the latest tweets from the #WeJustNeedToPee campaign, AFTER THE JUMP …
KTTC Rochester, Austin, Mason City News, Weather and Sports
#wejustneedtopee #TransLivesMatter #occupotty #LGBT a sign at the restroom at dinner tonight @_michaelhughes1 pic.twitter.com/2wKHJ8gGip
— Kole Hillman (@kolehillman) March 14, 2015
Time to pee. #wejustneedtopee pic.twitter.com/cPQzjY2nMK

— ninjapiratetx (@ninjapiratetx) March 14, 2015
I never want to fear a bathroom again like I did when I started transition. #PlettPutMeHere #WeJustNeedToPee pic.twitter.com/5lb7T0TIeI

— Caroline TG (@CarolineMiriel) March 13, 2015
Coming soon to a red state near you. #wejustneedtopee pic.twitter.com/CZRWANIfIn

— April Foster (@aprilfosterrr) March 13, 2015