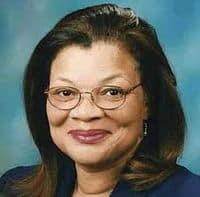 Martin Luther King, Jr.'s niece, Dr. Alveda King, who has a long history of anti-LGBT activism, has been hired as a Fox News contributor, Fox president Roger Ailes announced Friday.
The Huffington Post reports:
"Alveda has brilliantly carried the legacy of the King family to the next generation and has been a source of inspiration for many Americans," Ailes said in making the announcement. "Her passion and mission for social change will be a valuable contribution to our network."
Friends, thank you for your prayers and kind words during this stage of the journey. FOX NEWS contributor. Only GOD could have imagined.

— Alveda King (@alvedaking) March 7, 2015
This past Monday, Dr. King spoke at a rally inside the Georgia Capitol in support of the state's proposed anti-LGBT "license to discriminate" bill. The bill overwhelmingly passed the State Senate Thursday. 
Watch her speech, AFTER THE JUMP…