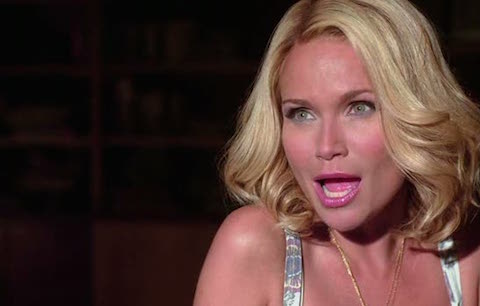 They say good things comes in small packages, and that's certainly the case with pint-sized star of stage and screen Kristin Chenoweth.
The blonde Broadway belter has been bringing down the house since her first show on the New York Stage, Animal Crackers, in 1993. Since that time, she's racked up a Tony Award, an Emmy Award and a Grammy, among other accolades, charming audiences with her big voice and bigger personality.
Since growing up in Dallas, Texas, Chenoweth has considered herself a Christian. She was initially raised Southern Baptist, but has become what she described to The New York Times as a "nonjudgmental, liberal Christian." In 2012, she further reiterated her commitment to her gay fans in an interview with ABC News:
"Even as a young child, I thought, 'Why is being gay bad?,'" she said. "I didn't understand it. So I asked my grandma, who is the best Christian I ever knew. I'd say, 'What about my friend Denny, he's gay, is he going to hell?' She told me, 'I read the Bible like I eat fish. I take the meat that serves me well but I don't choke on the bone.'"
At times her faith and her gay fans have clashed. To promote her 2005 album, As I Am, she appeared on The 700 Club, hosted by the notoriously bigoted Pat Robertson. She later admitted that she regretted doing the show and clarified her personal beliefs to The Sioux City Journal in 2006:
"I'm a very controversial figure in the Christian world. I don't believe if you're gay or you have a drink or you dance you're going to hell. I don't think that's the kind of God we have. The Pat Robertsons and Jerry Falwells of the world are scary. I want to be a Christian like Christ — loving and accepting of other people."
Perhaps her most vocal support for the gay community came in support of her Promises, Promises co-star Sean Hayes. After a writer for Newsweek made the assertion that gay actors can't convincingly place straight roles, Chenoweth responded with her own take: "Audiences aren't giving a darn about who a person is sleeping with or his personal life. Give me a break! We're actors first, whether we're playing prostitutes, baseball players, or The Lion King." Her support earned her a Vanguard Award at the 22nd Annual GLAAD Media Awards in 2011.
Check out some clips of Chenoweth's performances, AFTER THE JUMP …
 
Chenoweth's work as Sally in You're A Good Man, Charlie Brown (a character that didn't appear in the original production) earned her a Tony Award for Best Featured Actress in a Musical. In the clip above, Chenoweth performs "My New Philosophy" at the 1999 Tony Awards.
 
One of Chenoweth's most iconic roles is that of Glinda in Wicked. She portrayed the Good Witch of the North opposite of Idina Menzel's Elphaba, to whom Chenoweth lost the 2004 Tony Award for Best Leading Actress In A Musical.
 
Not all of Chenoweth's memorable work has been confined to the stage. She won an Emmy Award for her portrayal of Olive Snook on ABC's critically-lauded, but low-rated whimsical series Pushing Daisies. Prior to that she appeared as Annabeth Schott on The West Wing.
 
Another notable TV appearance for Chenoweth was as April Rhodes on Glee. On the show, she's performed "Alone," "A House Is Not A Home," and "Fire," among others, including "Maybe This Time," above. Her work earned her two Emmy Award nominations.
 
Most recently, she's been appearing alongside Peter Gallagher in the madcap musical comedy On the Twentieth Century.
What's your favorite Chenoweth performance?