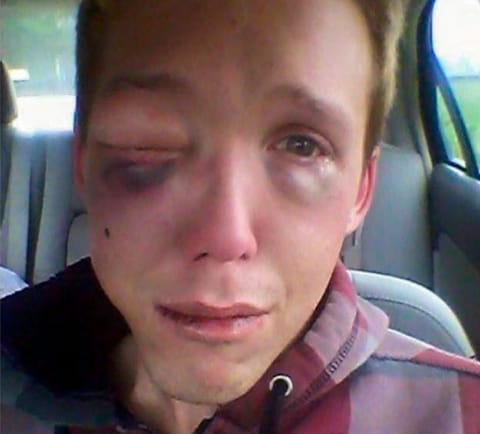 Police in Mississippi are investigating a brutal assault that may have been an anti-gay hate crime.
Devin Norman (above) suffered a broken cheek bone and other serious facial injuries when he was attacked in the parking lot of a Walmart in Corinth, Mississippi, on Friday afternoon. 
From WTVA-TV: 
Investigators said James David Scott (right), 23, of Tishomingo County, confronted the victim, Devin Norman, 26, of Corinth, about an alleged post made on social media.

"The alleged Facebook post was apparently sexual in nature," Police Chief Ralph Dance said. "We haven't been able to verify that there was ever a Facebook post made."

After a few words were exchanged between the two, police said Scott threw Norman to the ground and kicked him several times in the face.
Scott fled on foot before being captured, but was later released on bond. He is currently charged with simple assault, but police say the charge will be upgraded to aggravated assault because Norman suffered broken bones. 
Norman and his friends say the incident was an anti-gay hate crime, but police haven't confirmed that, according to WTVA-TV: 
They are, however, investigating to see if there's a possible hate crime. 

Dance also said the Federal Bureau of Investigation has been contacted by members of the community, and it's currently being investigated.

"We've heard from several people, including the victim, that the suspect beat him up because he's homosexual," Dance said. "So far, we don't have any proof that's the case."
Mississippi's hate crime law doesn't include sexual orientation, but Scott could face federal charges under the Matthew Shepard and James Byrd Jr. Hate Crimes Act. 
A post about the attack went viral on Facebook over the weekend, and Norman's friends launched a GoFundMe campaign, "Justice For Devin," to help with medical and other expenses. They also staged a rally outside the Walmart on Sunday (below). 
"Devin Norman is a rockstar in our small town in MIssissippi," the GoFundMe campaign states. "Everyone knows him and everyone loves him, so we were shocked and completely heartbroken when he was brutally attacked in a Walmart parking lot. He was completely defenseless as his cowardly attacker relentlessly beat him for being gay. … Nobody should ever feel this way or be treated this way. Violence is not the answer — love is!"