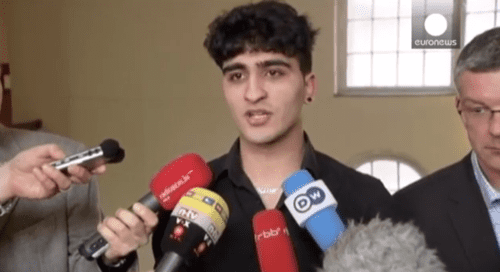 At the age of 15 Nasser El-A made the decision to come out to his his conservative Lebanese family. Though Nasser and his family lived in relatively progressive Berlin at the time, many of his relatives thought of his revelation as being sacrilegious and took steps to "fix" him.
Years later, after multiple threats of physical violence and an instance in which he was doused in gasoline, Nasser fled his home in search of a place where he might find refuge. Ultimately, the teen found Papatya, an outreach group specializing in the housing needs of battered women and children. He stayed with the organization until being invited back home by his mother who assured his safety.
Upon returning home, however, Nasser's father and two of his uncles kidnapped the teenager in an attempt to whisk him off to Lebanon and force him into an arranged marriage with a woman. Given Nasser's age, his kidnapping triggered an Interpol alert. The boy was found hours later by police authorities along the Romanian-Bulgarian border and brought back to Germany.
Though Nasser's father and two uncles were unsuccessful in trying to forcibly convert the boy, the Berlin Criminal Court slapped each of the men with fines close to $2000 for the roles they played in the kidnapping.
"I'm not someone who hides away. I don't want to suppress my sexuality," Nasser said after the recent court ruling. "I have managed to bring this case to court. For me this chapter in my life is over now."
Listen to Nasser's full statements AFTER THE JUMP…