IN NEED OF A BEACH FIX? HERE ARE 3 OF YOUR BEST CHOICES
THE GAY BEACH
12th Street Beach is the gay beach on South Beach. Just look for the crowds of men and their towels. Afterward, stop by The Palace for a drink.
THE NUDE BEACH (WITH A GAY SECTION)
Sunbathe in your birthday suit (or not) at Haulover Beach.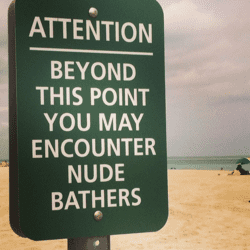 Haulover Beach is a clothing optional beach just north of Bal Harbour and Miami Beach, and the gay portion of the beach is at the north end of the nude portion of the beach. See map here.
One reader warns, "most people should be paid to put their clothes on."
Another says: "Haulover north is amazing and very pretty. It is friendly and publicly sanctioned, there are some creepers out there but it is generally offset by the large number of hotties in the late afternoon. I suggest taking public transportation on a weekend afternoon because parking can be a nightmare/ literally impossible. I.e. if you drive you will have to park so far away you will be taking the bus anyways (it is on an island)."
Another is more measured: "People watching: there are good days and bad days."
You can find the gay beach on South Beach off Ocean Drive and opposite 12th Street and the Palace bar. To-go drinks are allowed and suggested. You won't miss the rainbow flags on the beach.
THE PEACEFUL REMOTE BEACH
Crandon Park on Key Biscayne is favored by many for being beautiful and less scene-y. It's "much more chill and natural looking" than beaches on South Beach, according to readers. On weekdays it is described as serene.
The beach also has volleyball nets, lots of picnic tables, biking, jogging and rollerblading, kayaking and paddleboard rentals. There are wild peacocks!
Bring a picnic. Snack bars are limited. Get to Key Biscayne via the Rickenbacker Causeway toll bridge ($1.59) and the park entrance fee is $5 on weekdays, $6 on weekends.
As far as water activities go, readers suggest renting jet skis, paddle boards, and boats. If you're a windsurfer head to Hobie Beach.
There's also a quacky Duck Boat Tour for folks interested in seeing the water in a different way.
One reader offers a tip for divers:
"There are lots of options for scuba divers. Miami offers some wreck dives and night dives that are worth it (but no diving right off the beach). It isn't anything like diving in the Caribbean (even though it's so close), and this certainly isn't a location you'd pick just to go diving, but if you're there anyway then it can be a lot of fun. Most dive companies offer excursions to Key Largo that leave early in the AM and arrive back in Miami around dinnertime. Honestly I don't recommend this. I found the diving in Key Largo to be very disappointing and not worth all the hours spent in the car going to/from the keys. Stick to the local Miami boat dives, in my opinion."
Next Stop, 5 Art Meccas to Visit in Miami Right Now…
Jump ahead to RESTAURANTS | COCKTAILS | HOTELS | NIGHTLIFE | BEACHES | DAY TRIPS | ART | FITNESS
If you have an exciting Miami travel tip to share with us, please email us at travel-at-www.towleroad.com and we'll check it out and consider adding it to this guide. Help us make it better!