VISIT A CORAL FANTASYLAND OF ONE MAN'S MAKING
The Coral Castle in Homestead, Florida (which took the brunt of Hurricane Andrew way back), is the 28-year creation of a single man, Ed Leedskalnin, who carved this fantasy world himself. It's now a museum.
BATHE IN A CRYSTAL SPRING UNDER WATERFALLS
Have a swim at the Venetian Pool, a unique aquatic facility created in 1923 from a coral rock quarry. It's 820,000 gallons, fed by an underground aquifer with waterfalls and grottos. The pool was closed all through February for renovations but reopens on March 10, 2015.
SEE HOW A CLOSETED MULTIMILLIONAIRE ART COLLECTOR LIVED
A gorgeous villa just south of downtown Miami, Vizcaya has played host to Miami's legendary White Party for many, many years and continues to operate as a venue for elegant balls and benefits. But you can visit during the day and check out its beautiful garden and grounds, situated right on the water.
James Deering, a closeted socialite, antiques collector, philanthropist, and executive at the International Harvester company, built Vizcaya between 1914 and 1922 with his "companion" Paul Chalfin.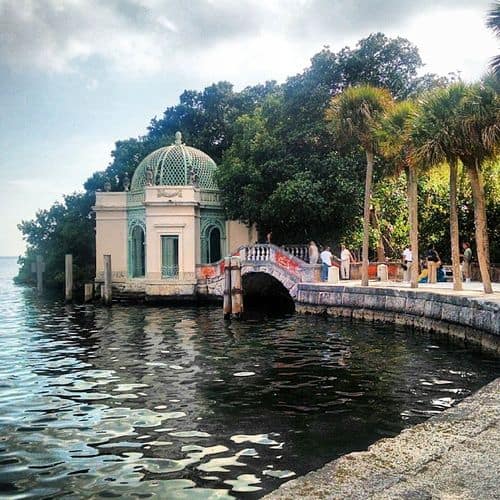 CHECK OUT A PICTURESQUE 'VILLAGE' ON STILTS IN THE MIDDLE OF THE SEA
Stiltsville is a collection of seven houses that sit atop pilings in mud flats in the middle of the shallow water in Biscayne National Park. Stiltsville is on Biscayne Bay one mile south of Cape Florida at the tip of Key Biscayne. There are several boat tour companies that will take you out to see them.
If you're lucky, you'll run into this adventurer out there too:
SPOT A GATOR IN THE EVERGLADES
Visiting The Everglades is one of the best activities for wildlife lovers in South Florida. Many readers recommend a day trip. There are Everglades airboat rides if your conscience can stomach the idea that they disrupt the environment, but there are also hiking trails and more tranquil boat exploration. You're likely to see alligators, snakes, fish, and beautiful birds plus possibly a manatee or Florida panther, and obscenely beautiful landscapes and skyscapes.
A reader writes: "It's about an hour south of Miami. Lots of hiking and biking trails. The scenery is not like the Grand Canyon or Yosemite; it's best appreciated on a small scale, up close. The endless sea of sawgrass gets a bit boring, but hike into the hammocks and pinelands to see some beautiful wildlife."
Another writes: "Tamiami Trail into the Everglades. There are pullover lookouts for alligators and other wildlife. You can also take airboat rides which are unlike anything else. In season (November to April) you can end in Everglades City where the boats come in with Florida's specialty, stone crabs. Several restaurants right on the docks feature specials."
GET FRUITY
This is a place that our readers won't shut up about. Robert Is Here is south Florida's most famous fruit stand, open 7 days a week from 8 am until 7 pm. It has amazing shakes.
Writes one reader: "Robert is here! fruit stand down close to the Glades is an institution. Go on an airboat ride and stop on the way back for awesome fruit – gotta try the green monster fruit. It tastes like pineapple and banana together- amazeballs. Their milkshakes are also legendary."
Another adds: "Not a meal and a bit of a schlep, but if you have a car Robert is Here is a Fruit Stand that has the best shake you'll ever have. Located toward the Everglades about an hour south of Miami.  Foodies will love it and will definitely be taking home some of their homemade jams, jellies, BBQ sauces, locally sourced honey, etc."
Directions here.
Next Stop, Where to Go to the Gym and Bike in Miami Right Now…
Jump ahead to RESTAURANTS | COCKTAILS | HOTELS | NIGHTLIFE | BEACHES | DAY TRIPS | ART | FITNESS
If you have an exciting Miami travel tip to share with us, please email us at travel-at-www.towleroad.com and we'll check it out and consider adding it to this guide. Help us make it better!