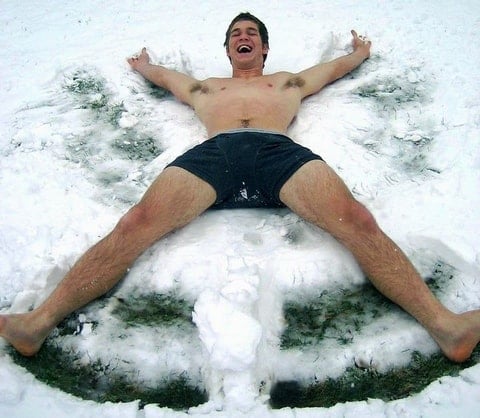 It seems like everyone is complaining about the never-ending onslaught of winter these days. Indeed, several reports have noted that February was the coldest month on record in parts of the U.S. For many, it pretty much feels like this cold front is the new normal.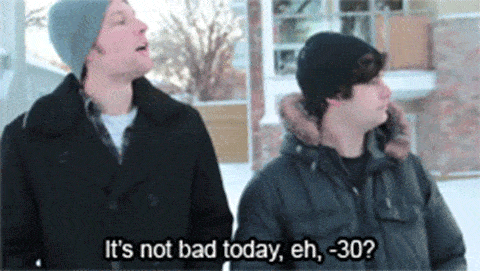 But rather than get down about the ice, sleet and snow, why not celebrate all that winter has given us? We've put together a list of 33 shirtless snow men who remind us of all that is (s)pec-tacular about winter. You might just leave saying, "the cold never bothered me anyway." 
Dive in, AFTER THE JUMP…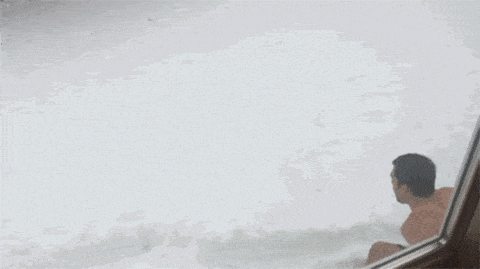 1. Think of it this way, all this snow provides ample opportunity to indulge in your favorite winter sports. 
Shirtless skiing with my brother pic.twitter.com/9yy0NtkdQP

— CJ Scherer (@ImMagiic) December 28, 2013
2. The snow also allows bros to show off just how baller they are.
What is good snow without going out shirtless? #SnowSelfies pic.twitter.com/XnBzkxMtXc

— Beezy F-Baby (@Brando_Johnson3) February 26, 2015
3. They're braving the worst conditions to share their shirtlessness with all of us. They want to help us through these tough times. #Charity
Nothing like a day at the beach 🔥 #SnowSelfies pic.twitter.com/bFMMNp4Inx

— Grey Alexander (@GreyAlexander43) February 26, 2015
4. The 'snow challenge' is the challenge among bros at the moment.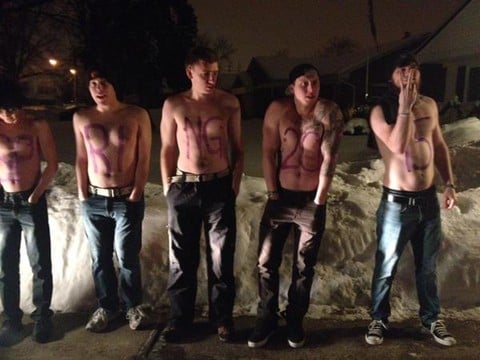 We're not mad at it.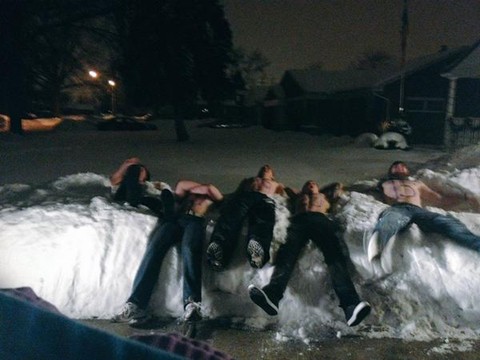 (Photos via @nat_cantrall)
5. Who says you have to wait til summer to show off that beach body you've been working on in the gym? Showing off that toned torso in the snow earns you major points for moxie. 

Shirtless cutie in the snow pic 2 😛😋😍 pic.twitter.com/IxbLJSyJog

— Paul Stephens (@PaulSte92075247) February 22, 2015
6. Worried about shoveling all that snow? 

Peak Canada http://t.co/Z1cEMDVDH8 pic.twitter.com/dVcBmZVBki

— Pras Rajagopalan (@rajagopp) January 7, 2015
7. Never fear, shirtless studs are more than happy to take on the extra work. 

Plus, it's a chance for them to show off their exquisite snowman building skills. Would you want winter to leave and miss this? 
(Photo via Pinterest)
8. You thought you had seen Zankie do everything in that Big Brother house. But thanks to snow, we get to see them in a whole new light. Thank you, Winter.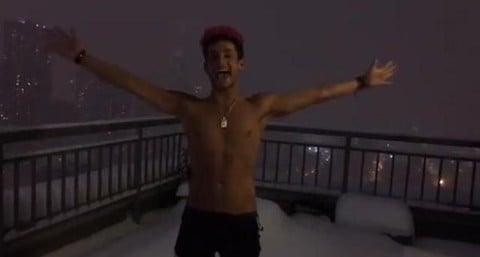 (Photos via @frankierizzle)
9. This snow-man reminds us how great winter weather is for accessorizing. You could not sport this stunning look in any other season. After all, who doesn't love a hat that feels right out of Doctor Zhivago?  
#FF_Specialツ to the crazy @RickyRomanXXX who's shirtless in the snow.. But he's got a fabulous hat! <3 pic.twitter.com/Swenysck7V

— Ricky Roman's Empire (@RomanEmpireXCI) July 19, 2014
10. Another great chapeau for those who are a little more country. 
I need a country boy😍 pic.twitter.com/5dxTh8HeD0

— Lady Boners (@Iadybonerss) March 25, 2014
11. Even better, bring the scarf and the hat but forget the shirt. After all, multiple accessories are life affirming. 
Taking shirtless underwear pics in the snow pic.twitter.com/yM4LLkYqj2

— ThingsWhiteFolksLike (@Things4WhitePpl) December 8, 2013
12. Would we get to see this guy's wild side if it wasn't for snow? 
Another shameless shirtless snow selfie because i like to lived on the wild side pic.twitter.com/qozBa2KY83

— Henry Butz (@Henry_Butz) December 9, 2013
13. Or would these chaps have a chance to show just how devoted they are to their team?
Go to a couple games in the snow without a shirt on … might as well make a Twitter account called @shirtless_crew pic.twitter.com/L8LuQrGVgC

— Doug Witte (@doug_witte) December 9, 2013
14. Players on the field are reciprocating. 
Ravens CB Asa Jackson, braving the elements. #Vikings #Faith pic.twitter.com/5SLO3W62cZ

— Paul Allen (@PAOnTheMic) December 8, 2013
15. Really, shirtless football in the snow is a gift only winter can give.
Model @SKuhlmann decides the best way to tackle the snow & cold weather is a game of football…shirtless. pic.twitter.com/lAvbgvMqju

— Peaks N Valleys (@MrPeaksNValleys) February 18, 2015
16. Please don't go away, snow. Not as long as you give us gems like this.
17. Face it, we would not be getting these pec-tacular poses if it were not for the snow. 
My brother and his roomate would go in the snow shirtless…. lol thay are way too much lmao #HeIsNotAshamed pic.twitter.com/t4nbvB570I

— Sasha Fierce (@mariaa_cat) December 7, 2013
18. Military training ends up looking more like a number out of Frozen when done in the snow. Musical numbers and a shirtless winter wonderland? It's enough to make us want to enlist.

Shirtless South #Korea soldiers conduct winter training in the #snow at -20°C http://t.co/yQGsS7bE2P pic.twitter.com/1BPoGNIB49

— David Sim (@davidsim) January 8, 2015
19. Selfie connoisseurs see the snow as an optimal background against which to strike a pose and get those likes, favorites and re-tweets. 
Dream checklist: walk shirtless in snow 👌 #dreamsdocometrue pic.twitter.com/nzrZrnlpLk

— sherif el meniawy (@SherifElMeniawy) November 29, 2013
20. The snow men have to show us that their abs love the snow. 
Those abs 😍 pic.twitter.com/LbYf4GL9LD

— Fitness Motivation (@BeFitMotivation) July 26, 2013
21. The cold make abs extra taut. 
Hot damn shirtless zack in the snow, what a fab sight. I wish I was the guy in the truck behind him. pic.twitter.com/YS2ZcF8daa

— hl (@dvmpweed) July 16, 2013
22. So soak it in.

23. Lumbersexuals looks extra sexy in the snow. 
24. And don't forget the polar bears! We would never see polar bears in their natural habitat if it wasn't for all this snow.

25. This shirtless snow man reminds us to revel in the snow. Simply creating a snow angel can cure you of your woes.
26. Even controversial Viners like to show a little skin in the snow (posted without comment).
throwback to when nash was in iceland and took a shirtless picture in the snow 😂 pic.twitter.com/PQnPgCJm4F

— sofia (@swerveforgrier) February 20, 2015
27. Young aspiring models find the snow perfect for showing off their dewy, fresh-faced looks. 
snow and taylor shirtless. woah pic.twitter.com/ldMY2qaxdW

— pls trev-ily connor (@probablyfranta) April 20, 2014
#18ReasonsWhyWeLoveTaylor 15. How he takes shirtless pictures in the snow pic.twitter.com/hk4PPxQAZ3

— ♛ (@Mizz_Hayes) February 3, 2014
28. This shirtless gentleman wonders, "who will I cuddle tonight to stay warm?" And therein lies another benefit of the cold weather: reduced chances of overheating in bed with your cuddle buddy.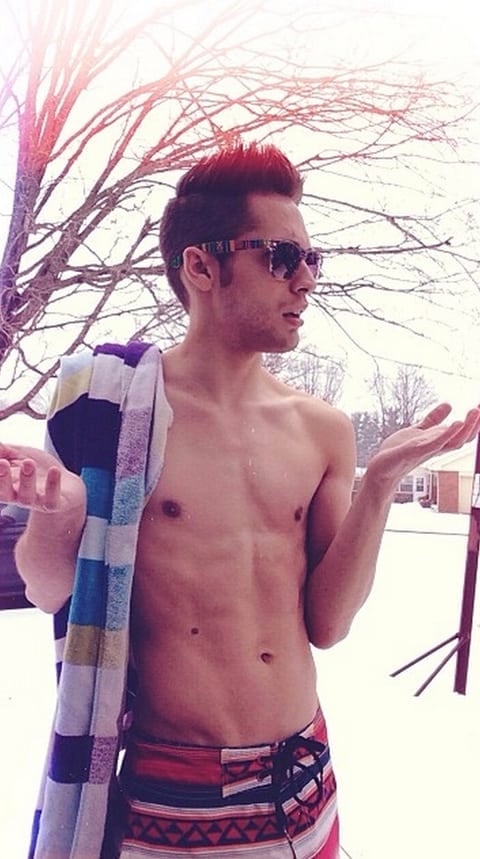 (Photo via Instagram)
29. And then there's #GaySkiWeek. Would we ever have seen this shirtless cub in all his splendor had it not been for the siren call of #GaySkiWeek?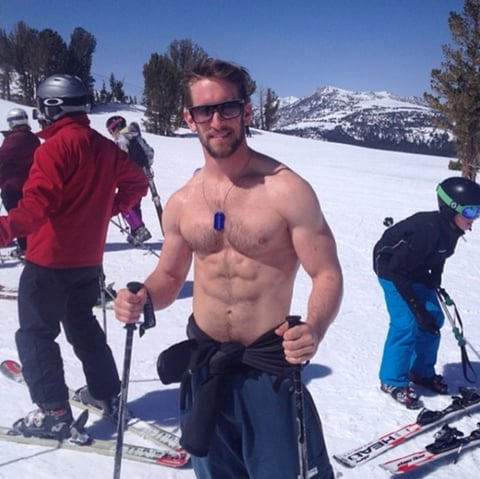 (Photo via @elevationgayski)
30. Thank you, #GaySkiWeek.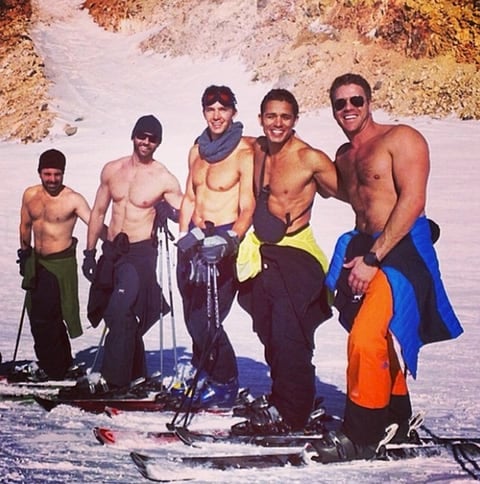 (Photo via @elevationgayski)
31. Snowy backdrops are perfect for showcasing excellent ink.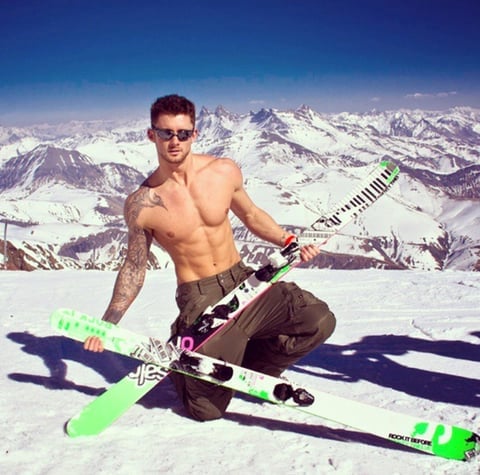 (Photo via @gayskitrips)
32. And where else can a pop of color or a smartly tailored holster pop as much as against the snowy slopes of a freshly groomed ski-run?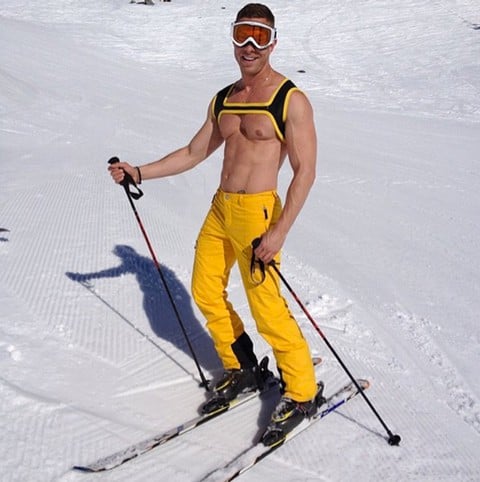 (Photo via @gayskiweeknz)
33. In everyday life (and in everyday gay life), speedos are not that exciting. Sure there's a certain amount of courage involved in rocking a banana hammock in public. But donning a budgie smuggler in the snow? Now that's something that will catch your eye. "You're welcome," said Snow.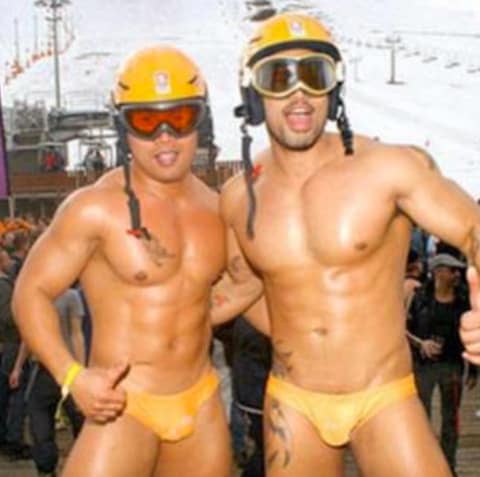 (Photo via @gayskiweeknz)
If you've reached the end of this list and stalked the many men who have shown us why winter is so wonderful, you may have realized that not all of these shirtless studs were photographed in 2015. But you've gotten this far, so let it go. Does the date really bother you anyway?
In conclusion: say yes to winter.