WATCH A DRAG SHOW AND DAY DRINK AT A SOUTH BEACH GAY INSTITUTION
The Palace has been on South Beach's gay map for 26 years and the fun doesn't appear to be waning any time soon. Though the facilities themselves are in need of a clean-up, (mostly due to the constant come-and-go of intoxicated crowds) if you're looking for an entertaining gay place to day drink on the weekends, here's your spot. It's opposite the gay beach, so it's the perfect spot for an aprés-sun cocktail or pitcher of beer.
Drag queens Melissa Hilton, Tlo Ivy, TP Lords, Latrice Royale, Shanaya Bright and others keep the patio enthralled at brunch time. The food is basic but the talent isn't.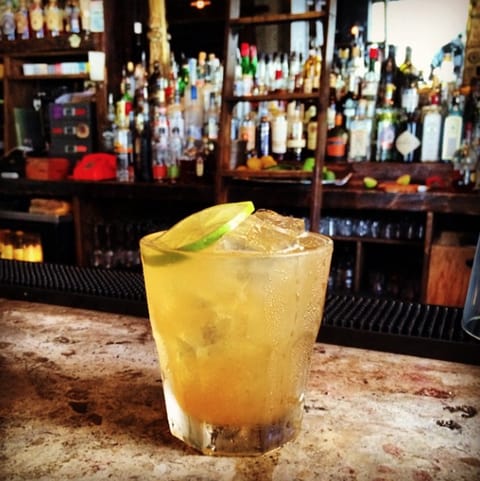 Try 'The Golden Goal' at The Corner: Cachaca, Pineapple, Brown Sugar, and Lime. (instagram)
HAVE A COCKTAIL AT 'THE CORNER'
Many readers, when asked to name the best straight-up Cocktail Bar in Miami pointed to The Corner, located in Park West, Downtown Miami, one of the city's oldest neighborhoods.
"Hands down," the best place for a serious cocktail, says one. Another writes, " It's where Anthony Bourdain would hang. All the service staff goes there after work, until well past sun-up. It's like Cafe Florent (a now gone NYC institution) meets a New Orleans dive bar."
Definitely a mixed, gay-friendly crowd.
While there are literally hundreds of cocktail bars in Miami, if you're looking for a scenic place for a drink closer to South Beach, you might try the pool area at The Standard. It's a nice spot for an afternoon drink or the sunset, popular with the gay crowd.
For an elegant hotel experience, readers suggest The Setai or the Matador Room at The Edition (neither are specifically gay).
And there is a jovial bar scene at the new Hotel Gaythering (much more on that to come).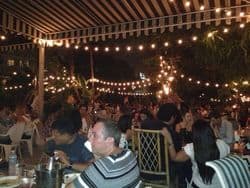 Finally, another reader enthuses about Lagniappe in Wynwood: "You need to experience it yourself. Amazing space. Picture mismatched patio furniture in a large outdoor space in the middle of mid-town Miami. Pick a bottle of wine, order something to eat or grab block of your favorite cheese from the fridge – then let staff put everything together for you on a platter that you can bring back to your table. Large and small groups gather, mostly locals with a splattering of out-of-towners (who have heard of it) – and if you stay late, enjoy a live band playing in the intimate interior space (and being piped outside through speakers). A place I always bring friends & family when visiting."
Next stop, 15 Great Places to Stay in Miami Right Now…
Jump ahead to RESTAURANTS | COCKTAILS | HOTELS | NIGHTLIFE | BEACHES | DAY TRIPS | ART | FITNESS
If you have an exciting Miami travel tip to share with us, please email us at travel-at-www.towleroad.com and we'll check it out and consider adding it to this guide. Help us make it better!