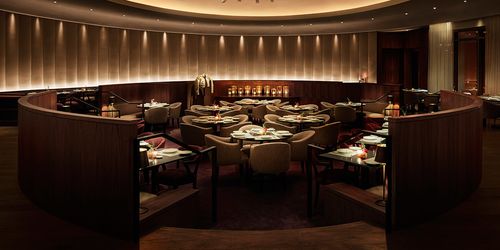 The Matador Room at The Edition Hotel
SPLURGE ON FOOD – IT'S AMAZING IN MIAMI
Located in the new Ian Schrager-designed Edition Hotel on Miami Beach, The Matador Room features a Spanish and Latin-inspired menu from Jean-Georges Vongerichten with a glamorous old-school supper club vibe. The oval room itself is something to behold and the hotel, its bar and grounds are among Miami's newest hot spots. Perhaps you'll see a group of Eastern Europeans so sauced they are three-way kissing at the table, or have Clive Davis arrive at a table near you, as Towleroad did the last time we were in town.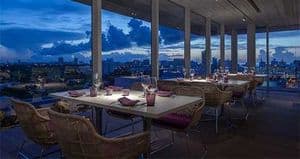 For upscale eats, Towleroad readers also love Hakkasan in the Fontainebleau Hotel, and Seaspice on the Miami River (formerly Seasalt & Pepper and frequented by celebs like Beyonce and Jay Z, Gloria Estefan, and Ryan Phillippe – lovely for brunch as well). Readers also love Dolce Italian and, for the beautiful views and the outdoor space, Juvia (right), off of Lincoln Road. Cecconi's at the Soho House is also a reliable, usually-packed option.
In Wynwood, try R House or Wynwood Kitchen and Bar (one tipster absolutely loves the 48-hour Crispy Pork), Fireman Derek's Bakeshop & Cafe for pies, pastries, and lunch. Kush for craft beer and comfort food.
Michael's Genuine is a neighborhood bistro in Miami's design district serving fresh, locally-sourced ingredients (straciatella, grouper tartare, pig ears and duck confit, and bacon-infused bourbon Manhattans are among the offerings). Always packed and very reliable. Great for lunch too. Also in the design district you'll find Mandolin, an open-air Greek bistro perfect for warm Miami evenings. One reader said he got his best meal in Miami at Buena Vista Bistro.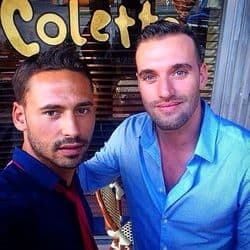 In Midtown, check out Black Brick for "innovative Chinese" and Midtown Oyster Bar or Mignonette which are "getting raves from locals."
Shuckers Waterfront Grill on the 79th Street Causeway has a great view and a very friendly staff if you're looking for drinks, seafood, and bar food.
Other new restaurants getting some heat are Latin American eatery Loba, the gastropub Pubbelly, and Blue Collar (located on the ground floor of a motel on 69th and Biscayne – no reservations, so prepare to wait especially for weekend brunch).
If you're looking for places around Lincoln Road try Yardbird, a Miami staple which serves southern comfort food – think fried chicken, ribs, deviled eggs, fried green tomatoes, bourbon cocktails. It always has a wait so call ahead for reservations and prepare to be served so much food that you roll out of there. Longtime brunch staple Balans is useful for people watching and mimosas at brunch, and just at the western end of Lincoln Road we suggest CVI.CHE 105 (higher-priced), Colette (mid-priced bistro with gorgeous waiters/owners), and Huahuas tacos (low-end) for something quick.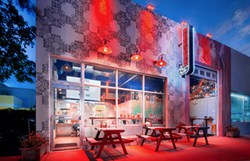 Zak the Baker , for brunch and dinner, also gets a rave from several readers. The mushroom polenta is recommended for vegetarians.
For cheap eats, readers recommend Bodega taqueria (right) which serves Mexican food from an airstream trailer housed within a modern warehouse with a glass front. Miami is a huge Food Truck town…regular food truck events at Haulover Marina, Collins and 73rd-ish, Pelican Marina (on 79th Street Causeway) among the best.
Book your reservations in advance. Prime time reservations from 8:30 to 10 pm fill up fast.
HAVE A TRADITIONAL CUBAN MEAL
Versailles is the Miami go-to from a classic Cuban meal, although one reader suggests skipping Versailles and heading instead to the nearby La Carreta (at 3632 SW 8th Street).
Readers love
Readers also recommend Puerto Sagua ("great Cuban food in a divey atmosphere"), Abuelas on Meridian, and the lamb shank at Little Havana. Also the Latin Cafe on Biscayne Boulevard for "great mojitos and inexpensive food."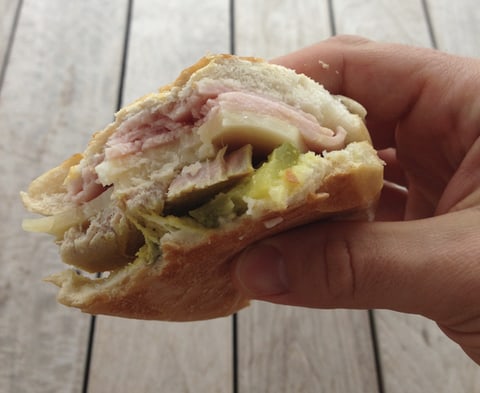 HAVE A COFFEE
By far the most recommended coffee spot by Towleroad readers, Panther Coffee is a Miami-based specialty boutique coffee roaster and wholesaler with two locations. One is in Sunset Harbor and great for post-workout people-watching (the Barry's Bootcamp is right nearby).
Their other location is in Wynwood (pictured above), also excellent for people-watching. They're on Instagram here.
And try the cold brew.
Next stop, 7 Great Places to Drink in Miami Right Now…
Jump ahead to RESTAURANTS | COCKTAILS | HOTELS | NIGHTLIFE | BEACHES | DAY TRIPS | ART | FITNESS
If you have an exciting Miami travel tip to share with us, please email us at travel-at-www.towleroad.com and we'll check it out and consider adding it to this guide. Help us make it better!