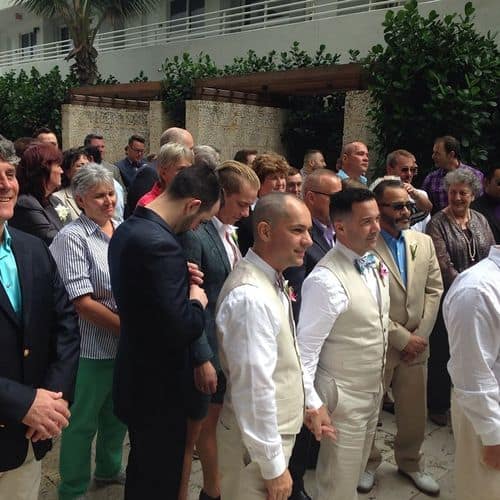 Talk about gay friendly – The James Royal Palm Hotel just hosted 101 Gay Weddings to celebrate Florida's marriage equality ruling.
WHERE DO GAY TRAVELERS STAY IN MIAMI AND SOUTH BEACH?
Visitors to Miami are spoiled for choice when it comes to hotels but this is where our readers are staying, and some insight into their choices. Most prefer to stay on South Beach.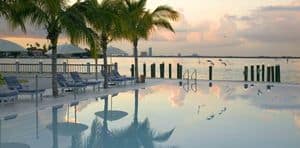 Readers suggest The Hilton Bentley, The W Hotel, The Dream, The Loews on South Beach, The Fontainebleau, The Standard, The Betsy,  The Thompson, The Edition, and The Marriott Stanton. Room rates for all these places vary (sometimes vastly) depending on time of year.
The James Royal Palm, a luxury hotel right on the beach, recently hosted 101 Gay Weddings, where 101 couples were married by celebrity restaurateur Guy Fieri. You may have read about it here on Towleroad. The event was hosted by Chef Art Smith. Since we surveyed our readers, news broke that the hotel has sold and will reportedly be franchised under a Starwood brand.
One reader describes the Mandarin Oriental as his fave but another says "The Mandarin Oriental is great but it is on a traffic choked islet in boring downtown."
For those wanting to stay closer to Wynwood in Miami proper, check out the newly renovated, gay-owned and operated Vagabond Hotel on Biscayne Boulevard. The hotel has been recently renovated to its retro kitsch glory. Designed by Robert Swarthburg, it originally opened in 1953 and was known as a hangout for the Rat Pack: Frank Sinatra, Dean Martin, Sammy Davis, Jr.
The Vagabond has also become one of Miami's foodie destinations with a new restaurant from Alex Chang.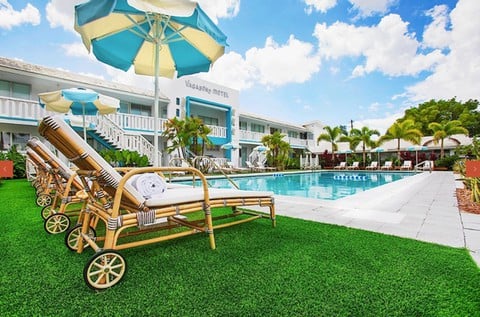 More reader comments on hotels: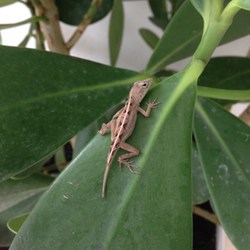 "We've always liked the Raleigh. Very gay friendly. Best pool. Direct beach access. One of the first Still one of the best." … "The Raleigh has a lot more vintage style than say the W, but definitely something on the Deco Strip."
"W Hotel, Thompson and the Edition Hotels – chic and very trendy. Edition & Thompson are the latest – so always a great place to be seen. If you have access, you're going to want to stay at the Soho Beach House. Always a great group of people (mostly the same crowd as NY – which may or may not be appealing to all)."
"On a low budget, I just discovered the James Hotel (not to be confused with the James Royal Palm, above). It's not on the beach but the decor is uber-kitsch. For anyone who wants to stay at a hotel decorated by an outsider artist. Unique but not pimped out and low on amenities."
"Hotel St Augustine a real sleeper. South of 5th away from the crowds. Close to the action."
On a budget?
Travelers on a very limited budget who don't mind the closeness of strangers, might want to check out The Freehand (below). A recent check of their website showed a shared room rate at $67/night.
Writes one reader: "It's a hostel, but modern with a trendy bar and restaurant scene full of young locals and tourists alike. It's a great place to go if you're a large group – and you'll love the bar, The Broken Shaker, mixing up some of the best tasting mixed drinks in Miami."
And for those wanting something where they're sure to find gay people, there is Hotel Gaythering. Yes, you can stay there, but there's more. It has become a lively watering hole for those looking for a neighborhood cocktail bar and a community experience on South Beach.
Next stop, The Gaythering…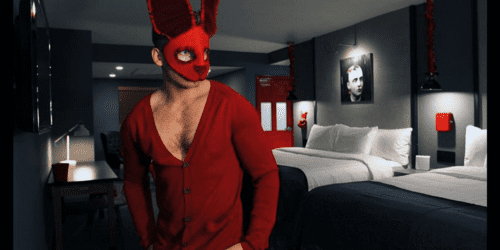 One of the woodland creatures at the Gaythering Hotel.
Jump ahead to RESTAURANTS | COCKTAILS | HOTELS | NIGHTLIFE | BEACHES | DAY TRIPS | ART | FITNESS
If you have an exciting Miami travel tip to share with us, please email us at travel-at-www.towleroad.com and we'll check it out and consider adding it to this guide. Help us make it better!