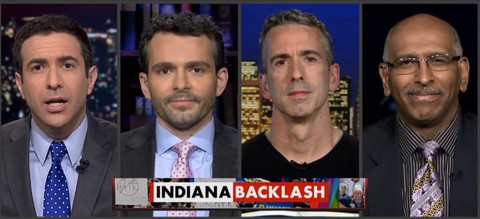 Ari Melber, filling in for Chris Hayes, hosted Dan Savage, conservative pundit Ryan Anderson, and former RNC Chair Michael Steele last night in a face-off segment on Indiana's anti-gay 'religious freedom' bill.
Savage called Anderson's defense of the law the "bizarro world definition" of religious discrimination. Steele took Savage's side.
"Dan is absolutely right. A lot of this is settled law, in many respects."
Watch, AFTER THE JUMP…