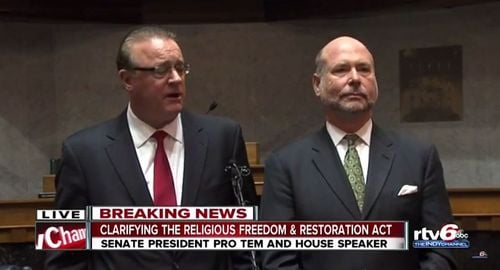 At a press conference Monday, Indiana's GOP leaders attempted to calm the growing backlash against the state over its new "religious freedom" law, CNN reports:
Republicans David Long (above left) and Brian Bosma (above right), the state legislature's senate president pro tempore and house speaker, respectively, insisted Monday that the law would not and was not intended to allow discrimination against anyone.
"It is not the intent of the law to discriminate against anyone and it will not be allowed to discriminate against anyone," Long said. "To the extent that we need to clarify through legislative action that this law does not and will not be allowed to discriminate against anyone, we plan to do just that."
The pair came out repeatedly hammering home that the law was not intended to and would not allow businesses to deny services to gay and lesbian individuals in Indiana, which Indiana's Republican Gov. Mike Pence repeatedly refused to say several times during an interview Sunday on ABC's "This Week."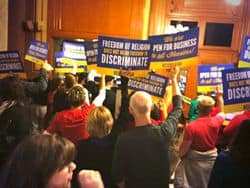 Bosma said that legislators "didn't see that [backlash] coming," which is more than a little disingenuous (read: total bullshit) considering the warnings and protests from business leaders and the general public in the lead up to the bill's passage in the House earlier this month. The picture showing Gov. Mike Pence surrounded by anti-gay activists at the signing of the bill also should have indicated to these lawmakers that the bill was bad news for the state.
Watch the press conference, AFTER THE JUMP…
Indiana Democratic leaders, meanwhile, are rightfully skepitcal of any "clairfication" attempts by Republicans and are calling for nothing short of a total repeal of the law.
Senate Democratic Leader Tim Lanane issued the following statement: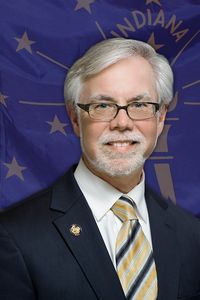 "Governor Mike Pence won't say it, but we will: discrimination is wrong and should be illegal in our state. Republican leadership has utterly failed in the handling of this situation and our reputation as a welcoming state has been badly tarnished. Businesses are heading for the exits and everyday Hoosiers are fearful their neighbors will be subject to state-sanctioned discrimination. To quell these concerns we must send a strong signal. We do not condone discrimination: we do not tolerate discrimination: we won't legislate discrimination. We need to take clear, actionable steps to repair the image of our state. To that end, Senate Democrats are ready to pursue a full repeal of this 'license to discriminate' and have drafted legislation to achieve just that. There's no compromise when it comes to discrimination. This is a second chance and it's precious. We owe it to every Hoosier to get this right. We can't afford to forfeit a single job or drive out a single talented individual. We have a responsibility to every Hoosier. Nothing short of repealing this hateful act and setting out clear protections will accomplish this aim."
House Democratic Leader Scott Pelatht added it was "time [Republicans] admitted that they made a horrible mistake" and said the state would need not "a Band-Aid" or "a rush job," but significant action to show the state is welcome to all.
Watch the Democratic leaders press conference today, AFTER THE JUMP…
In related news, Freedom Indiana has announced its own legislative solution to protecting all LGBT Hoosiers from discrimination. Under the Fairness for All Hoosiers Act, Indiana would: 
Update the state laws against discrimination in housing, employment and public accommodations to provide protections for LGBT Hoosiers. 
Clarify that the recently enacted RFRA cannot be used to allow discrimination prohibited under state or local laws.