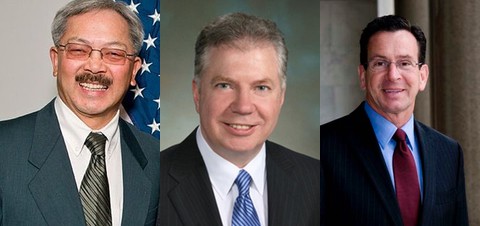 Seattle Mayor Ed Murray, San Francisco Mayor Ed Lee, and Connecticut Governor Dan Malloy plan to ban government-funded travel to Indiana over the newly passed "religious freedom" bill which allows businesses to discriminate against gay customers.
KING5 reports:
Seattle Mayor Ed Murray is banning city-funded travel to Indiana. He plans to sign an executive order next week. "Laws that say you can discriminate have no place in this country," he told reporters Saturday. Murray's opinion on the order has company. San Francisco Mayor Ed Lee is making a similar move.
The SF Chronicle reports:
In a statement, [Ed] Lee said the Religious Freedom Restoration Act signed by Indiana Gov. Mike Pence will legalize discrimination against lesbian, gay, bisexual and transgender people. He said the city "will not subsidize" that kind of intolerance.
"Effective immediately, I am directing city departments under my authority to bar any publicly funded city employee travel to the state of Indiana that is not absolutely essential to public health and safety," Lee said.
Malloy tweeted this morning:
Because of Indiana's new law, later today I will sign an Executive Order regarding state-funded travel. When new laws turn back the clock on progress, we can't sit idly by. We are sending a message that discrimination won't be tolerated.
Because of Indiana's new law, later today I will sign an Executive Order regarding state-funded travel. -DM

— Governor Dan Malloy (@GovMalloyOffice) March 30, 2015