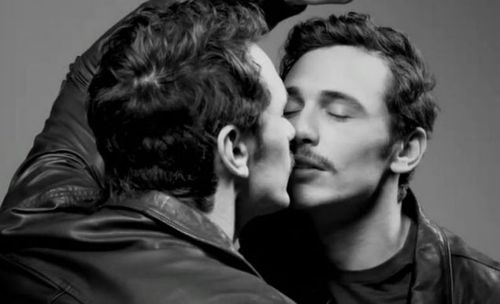 In the latest installment of "James Franco Plays Itself," the 36 year old actor sat down to have a casual rhetorical conversation in which "Straight James" and "Gay James" wax philosophic about whether or not gestalt James is, in fact, a gay dude. The exchange is everything you would expect it to be and then some.
"Let's get substantial," Straight James intones to his queer reflection. "Are you f–king gay or what?"
"Well, I like to think that I'm gay in my art and straight in my life," Gay James responds thoughtfully. "Although, I'm also gay in my life up to the point of intercourse, and then you could say I'm straight." 
"So I guess it depends on how you define gay. If it means whom you have sex with, I guess I'm straight. In the twenties and thirties, they used to define homosexuality by how you acted and not by whom you slept with. Sailors would fuck guys all the time, but as long as they behaved in masculine ways, they weren't considered gay. I wrote a little poem about it."
Gay James then reads the poem. It's not good.
In a certain light the interview can be seen as Franco's attempt at playfully batting at the persistent rumors about his sexuality that are constantly stoked by his affinity for homoerotically-charged acting projects.
In many ways his roles in "Interior. Leather Bar.," "I Am Michael," and "Milk" work because of Franco's intentional blurring of the lines between his own identity and that of his gay characters. We're meant to gaze and question and fantasize about who Franco is and what he's into, but ultimately it's just more queerbaiting. Just ask Instagram James; he'll tell you all about it.