Members of Congress are "lining up" to sign a pledge saying they'll defy a U.S. Supreme Court ruling in favor of nationwide marriage equality, according to anti-gay Pastor Rick Scarborough (above). 
Scarborough, who once said AIDS is God's punishment for homosexuality, told WorldNetDaily that he and other anti-gay leaders — including Mat Staver (right, above), James Dobson (right, below) and James Robison — are preparing a pledge whose signatories will vow to commit civil disobedience and go to jail before obeying a SCOTUS marriage ruling. The pledge reportedly will be released in the next few days.
Via Right Wing Watch: 
"We're taking a very adamant stand," he said. "If the court declares same-sex 'marriage' to be on the same par as a civil right, that's a bridge too far. We won't obey. We'll go to jail." … 

Scarborough confirmed congressmen "are lining up to sign the document."
We're guessing the list of Congress members "lining up" to sign the document is similar to the short list of 14 senators and 30 House members who've co-sponsored Republican Sen. Ted Cruz and Rep. Randy Weber's State Marriage Defense Act. But we seriously doubt many of them actually have the guts to go to jail. Nevertheless, Scarborough is hoping that in addition to Congress members, "thousands of churches and millions of Americans" will sign the pledge: 
"We're saying, before that, we will never obey that tyrannical law. It's counter to natural law, and God's higher law.

"We will simply refuse to comply with recognizing same-sex 'marriage' as legitimate," he said. "The Supreme Court does not have the inherent right [to make that change]. We'll going to continue doing what we've always done." … 

Those who plan to use the power of federal law enforcement to enforce same-sex marriage, he said, "better have a lot of prisons and jails."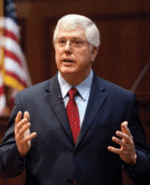 Staver, meanwhile, told WorldNetDaily that if SCOTUS legalizes same-sex marriage nationwide, it will put sexual orientation and gender identity on par with race when it comes to nondiscrimination laws: 
"Same-sex marriage or laws including sexual orientation or gender identity as a non-discrimination category directly impact religious organizations and churches. If a man wants to use the women's restroom and a church official told him he could not, then that act would be like telling people of color they cannot use the 'white only' restroom."
And Dobson repeated a pledge he first made over the use of federal funding for Planned Parenthood, in which he told Obama to "come and get me if you must": 
"Are we doing to sit on our reputations and go to our graves without having played a role? This is Roe v. Wade all over again. I am standing shoulder to shoulder with all who will stand up for God's Word concerning marriage. We don't know all of the steps that must be taken, but God will reveal His will. To the extent that I am able to influence anybody, I will do it with passion." … 

"It would be a violation of my most deeply held convictions to disobey what I consider to be the principles in Scripture. … So come and get me if you must, Mr. President. I will not bow before your wicked regulation. "