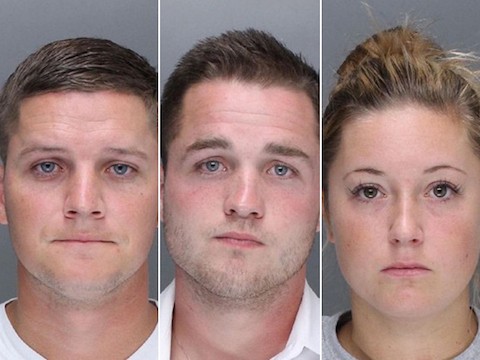 Lawyers for the trio of individuals accused in the September 11 assault on a gay couple in City Center, Philadelphia are expected to argue at an upcoming hearing for charges to be dropped or reduced, CBS Philly reports. 
Kevin Harrigan, Kathryn Knott, and Philip Williams were charged with various counts of aggravated assault and criminal conspiracy for their role in a brutal attack on a gay couple that left one victim with facial fractures and a jaw that had to be wired shut. 
CBS Philly adds:
Defense lawyer Louis Busico, who represents the 24-year-old Knott, says all of the defendants maintain their innocence:
"Perhaps some of the charges may never see a courtroom, or they all may. That's the purpose of reviewing discovery."
Defense lawyers are expected to argue at the next hearing, set for April 16th, that the conspiracy charges should be dropped and other charges reduced.
Prosecutors contend the three were part of a larger group that yelled slurs and confronted the two gay men "because of who they are."
You'll recall the Philadelphia City Council reacted to the anti-gay beating by unanimously approving a measure that would provide additional penalties for future crimes motivated by hatred regarding sexual orientation, gender identity or disabilities.