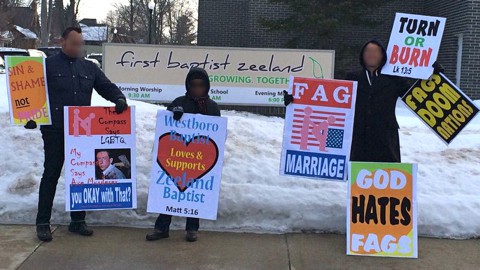 LGBT activists picketed a Michigan church for a second consecutive week on Sunday in response to the pastor's recent remarks comparing gays to axe murderers.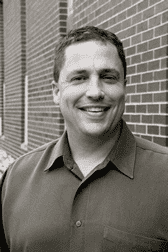 Pastor Clint Echols (right), of First Baptist Church in Zeeland, drew the comparison two weeks ago during a sermon about the need for the congregation to clarify its beliefs about marriage and sexuality by passing an amendment to its constitution, according to MLive.com: 
In the address to church members, Echols speaks about the attack on marriage between a man and a woman, framing homosexuality as a lifestyle choice that can be discovered at any point in a person's life.

"It's an internal compass and a person can discover their sexuality at any moment…oh wait a second, I'm gay, I'm bisexual, I want to change my gender, these things, and that's being true to themselves and being true to their internal compass " Echols says.

"For instance on another, a completely other playing field, if tomorrow I woke up because I have this internal compass that's telling me what truth is. Tomorrow, if I wake up and say, well, I think I'm an axe murderer, now I'm an axe murderer, would you be happy with that? Would you agree? Would you want me to follow that internal compass?"
The sermon prompted Zeeland resident Daniel Vanderley to launch a petition and organize protests outside the church last Sunday and today. Last Sunday, the protesters held Westboro Baptist Church-style signs (above) "to highlight the equal nature of vitriol" between the two congregations, according to Vanderley. 
WXMI-TV reports:  
"Living in a time where it's hard enough to come out as a gay, in a community where it's difficult enough to be gay, that to compare that to being an axe murderer does rise to the level of hate speech," Vanderley told FOX 17 by phone Friday.

"They are breaking 'love thy neighbor as thyself' and in the process they're putting in the minds of the kids who go to that church that being gay is not acceptable."
Despite the backlash, MLive.com reports that Pastor Echols isn't backing down from his statements: 
Echols, the church pastor, said in his sermon the proposed amendment isn't hate speech, but rather God's word. He said "this vitriol we are facing as the church of Jesus Christ is because there are people who hate God."

"We're a church that tries to uphold the word of God in grace and in truth," Echols said by phone. "We will continue to honor God's word as a church with malice toward no one and love toward all."
Listen to a portion of the sermon and watch WXMI-TV's report, AFTER THE JUMP …