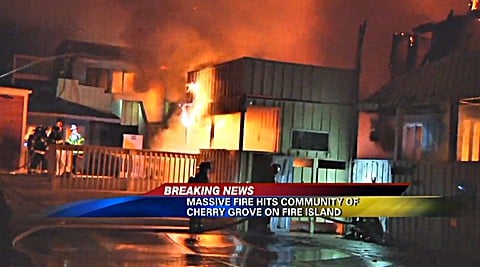 A massive fire overnight burned a hotel, several homes, and the boardwalk in the central area of Fire Island's Cherry Grove, a summer destination for New York's gay and lesbian community.
Officials say the first started just before 1:30 a.m. and two firefighters have been hurt. There is no word on the extent of their injuries. A total of 77 firefighters and 12 ambulance personnel took part in the effort to contain the blaze. News 12 Long Island has learned the Grove Hotel was destroyed along with two to three homes. Fire officials say there are some hot spots, but the fire is now considered under control. Officials are asking residents to not come until tomorrow to the area for their safety.
Videos, AFTER THE JUMP…
watch News12's video here.