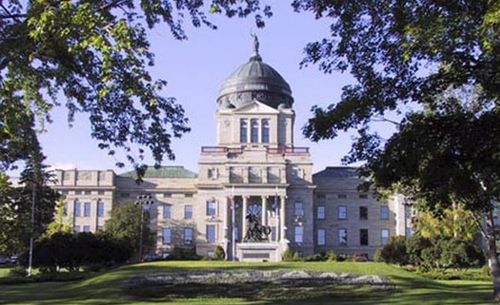 The Montana Legislature turned down a proposed referendum Friday after the bill, which resembles Indiana's religious freedom bill, failed to pass on a 50-50 vote reports the Associated Press. Opponents of HB 615 argued that the bill's language is so vague it would've allowed any church, business or individual to openly discriminate and freely violate laws; supporters of HB 615 countered that the measure would have brought a 1993 federal law to the state level that is aimed at preventing legislation that considerably burdens a person's right to exercise religion.
The AP adds:
When he presented the proposal Wednesday, Republican Rep. Carl Glimm of Kila said he intended for the bill to prioritize people's "sincerely held religious belief" above job descriptions. He and other supporters said it would allow county clerks to refuse marriage licenses to gay people and let pharmacists refuse to fill birth control prescriptions if they felt it would inhibit their religious practice. […]
Democratic Gov. Steve Bullock said before the floor debate that Montanans respect each other enough not to need a law like Indiana's, which at least one large corporation cited when pulling its business out of that state this week.
"What's happening in Indiana is something that shouldn't be happening in Montana," Bullock said before the floor debate. He added, "We don't need laws like that imported into our state."
The AP notes the bill could be reconsidered Saturday.