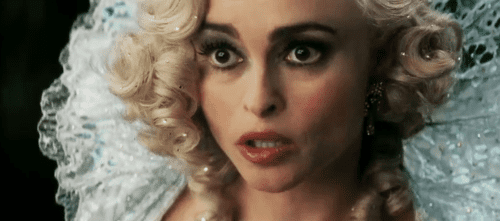 I know Helena. I was surprised, too. The new Cinderella is pretty great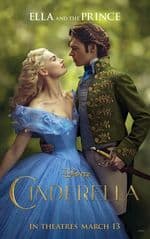 The Game of Thrones Stark family was fond of the imminent warning "Winter is Coming" but their King of North, actor Richard Madden, doesn't need to worry this time. He's due a much happier Royal ending as the latest charming Prince to hit the movie screens. Winter is most definitely never coming to Kenneth Branagh's luxe adaptation of the most beloved of fairy tales, Cinderella. From its opening vista of a well-to-do country estate, filled with warm yellows and verdant greens and one very happy family, a pleasant merchant and his sunny wife (Ben Chaplin & Hayley Atwell) and their kind daughter Ella (Downton Abbey's Lily James), this CINDERELLA screams springtime and summer.
Its timing couldn't be better after this particularly long winter.
Spoilers if you're freshly arrived from another universe: Ella's loving parents are not long for this world and after imparting their wisdom and reinforcing her enchanted goodness (yes, she talks to animals), they take turns dying. Lady Tremaine, the stepmother, is introduced inbetween those deaths in clever multi-tasking voiceover (courtesy of Fairy Godmother Helena Bonham Carter).
Continue reading, AFTER THE JUMP…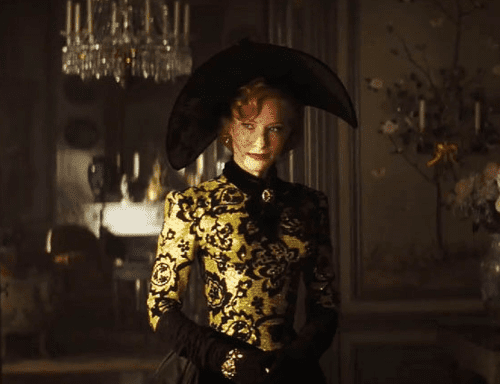 She had known grief but she wore it well."
We know only that Tremaine is a widow who's just married a widower as clotheshorse double Oscar winner Cate Blanchett turns to the camera in editorial pose and technicolor-ready Sandy Powell couture. WERQ! (Expect that Oscar-beloved costume designer to pick up her 11th nomination for the riches here). Lady Tremaine is instantly widowed again and Blanchett rocks one of the film's few colorless dresses with equally wicked elegance. So Ella is left lonely and unloved and working for, rather than living happily with, her cruel step-family, including spoiled brats Drisella (Downton Abbey's "Daisy" Sophie McSheara) and Anastasia (Holliday Grainger), who heap on the humiliations.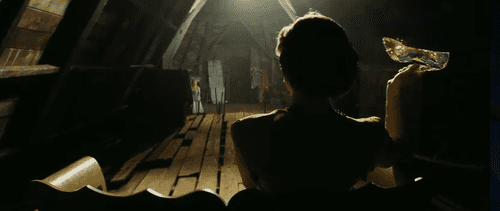 The story beats are excessively familiar but who cares when a movie is this skillfully mounted and well acted? Director Kenneth Branagh, who has always been talented at marrying rich images, dramatic gravitas, and real levity (see Much Ado About Nothing or Dead Again or even Thor if you're feeling generous) brings his A game. His sense of staging, combined with the inspired production design and costuming really make the setpieces pop. The ball is otherwordly beautiful in every instance where you fear it'll become gaudy. Rarely do this many colors collide on screen without creating something muddy and gross like Tim Burton's Eyesore in Wonderland. Powell continually risks faintly ridiculous gowns — all the colors of the rainbow all over the place, sometimes on the same dress– but they only serve to make Cinderella's fairy-dusted blue beauty glow with comparatively minimalist beauty. Frankly the movie could have done without the ubiquitous CGI mice (sigh) and the comic excesses of the Fairy Godmother / Pumpkin sequences but it's a small price to pay for the magic elsewhere.
While screenwriter Chris Weitz (About a Boy) doesn't seek to upend or "explain" the usual story (the need for back-story and prequels has been killing fantasy and imagination!), he renovates successfully. His greatest redecorating triumph is the suble way he shifts the power / emotional dynamic between Cinderella and her Prince, and even Cinderella and her step-family. There's also a slight makeover for the Bachelor Prince. If he's still not a three-dimensional human he's a far more attractive Ken Doll, complete with anatomically smooth but super flattering bulge pants. (Can we just give Sandy Powell the costume Oscar now?).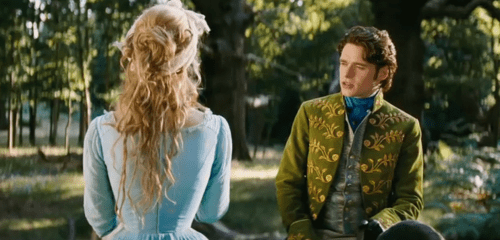 None of these efforts are distractingly "twisty" but they go a long way in eradicating much of the fairy tale's most retrograde gender politics while also making its gold-digging aspirational fantasy more palatable. In fact, Lily James may be the first Cinderella to feel like a complete character with agency and thoughts and morality all her own who also still reads exactly like the passive "Cinderella" you know and maybe love sheepishly. All due respect to Drew Barrymore's instantly dated if delightful 1990s 'GIRLPOWER!' rendition in Ever After (1998) but this movie owns the myth while managing to inhabit it.
Color the new Disney blockbuster a major surprise. This pleasantly old-fashioned Cinderella is a surprising antidote to Hollywood's current often anachronistic and faux-"dark" twists on fairy tales — most of them aren't dark at all; have you ever read the originals? They're grim(m). It's gorgeous. It's relatively smart. It's got heart. Given how oft-produced this particular story is though (let's call it the Hamlet of fairy tales and have a moratorium for awhile after this one, mmmkay?), if you don't have a sweet tooth for eye candy, you might want to sit this one out. The rest of us will be happy to hum along with Cinderella's beautiful daydream-singing and soak up all of its rich color and welcome humanity. "Be brave and kind" sure beats "Be rescued by a Prince & marry up!" as aspirational fantasies of happily ever-afters go.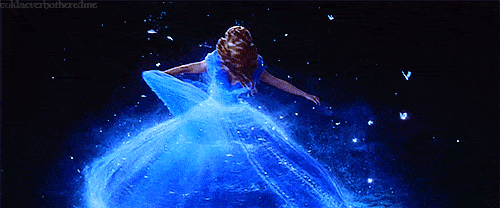 Nathaniel Rogers would live in the movie theater but for the poor internet reception. He blogs daily at the Film Experience. Follow him on Twitter @nathanielr.