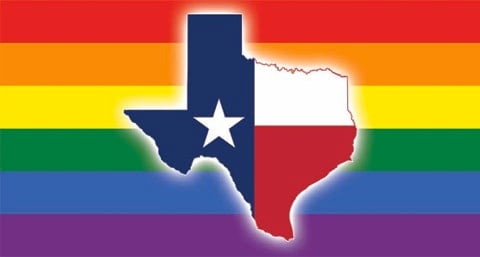 Indiana may be getting most of the attention, but Texas is "in a league of its own" when it comes to anti-LGBT legislation in 2015, according to a joint news release issued Tuesday by Equality Texas, the ACLU of Texas and the Texas Freedom Network. 
As we reported earlier this month, Texas lawmakers have filed at least 20 anti-LGBT bills, the most in the history of any state. 
Texas already has a Religious Freedom Restoration Act that is somewhat similar to Indiana's new law. However, the 1999 Texas RFRA includes an exemption for civil rights and wasn't intended to sanction discrimination against LGBT people. 
This year, Texas lawmakers have introduced two proposals that would remove the RFRA's civil rights exemptions and enshrine a "license to discriminate" against LGBT people in the state Constitution. The two proposed amendments are among six measures designed to allow businesses, government workers and other individuals to use religion to justify discrimination. 
Another five bills would prohibit cities from adopting or enforcing nondiscrimination ordinances protecting LGBT people. Meanwhile, six bills seek to undermine court rulings declaring the state's marriage ban unconstitutional, and three would make it illegal for transgender people to use restrooms and similar facilities according to their gender identity. 
From the release: 
"As troubling as the laws in Indiana and elsewhere truly are, Texas is in a league of its own when it comes to legislative efforts to legitimize and in some cases even mandate discrimination against its LGBT residents," said Kathy Miller, president of the Texas Freedom Network. "Supporters of this avalanche of cruel, mean-spirited bills cynically declare that they should have the freedom to discriminate while ignoring the real-life consequences for people who, simply because of who they are and whom they love, could lose their jobs or homes or be denied public services that others take for granted. I'm certain most Texans don't define freedom that way." … 

While enactment of the constitutional amendments would require a two-thirds vote in the Texas House and Senate as well as by Texas voters on a statewide ballot, passage of the 18 other bills requires just a simple majority vote in the two legislative chambers. Major U.S. companies have pushed back hard against such laws passed recently in Indiana, Arkansas and other states. A number of those companies as well as national organizations have even announced that they will reconsider plans to expand operations or hold events in those states. Business leaders in Texas — as well as an increasing number of clergy and other faith leaders — have also been expressing their concerns that the proposed legislation in Texas makes the Lone Star State appear intolerant and unwelcoming.
The release also notes that Texas lawmakers have introduced at least 35 pro-LGBT bills, the most in the history of the Lone Star State: 
"Indiana's legislators could have avoided the current economic backlash if they had passed a RFRA similar to the 1999 Texas law, which carefully balances religious liberty and nondiscrimination," [Equality Texas Executive Director Chuck] Smith said. "Texas has been a national leader in protecting individual liberty, and now the Lone Star State has the opportunity to continue that tradition of leadership by passing nondiscrimination laws that protect the individual right of all Texans to work hard and protect their families regardless of sexual orientation and gender identity."
Read an analysis of anti-LGBT legislation in Texas, AFTER THE JUMP …