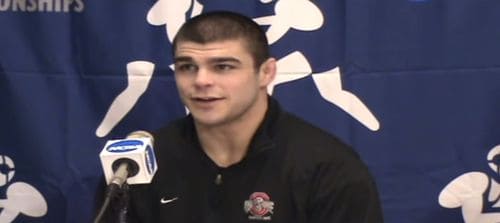 Mike Pucillo, a former Ohio State All-American and National Champion wrestler, has come out as gay in an interview with wrestling journalist Jason Bryant over at TheOpenMat.com:
The three-time All-American and 2008 NCAA champion said he struggled with his sexuality for years. He said he spent time in high school hoping he wasn't gay.
"I've always known, I guess," said Pucillo, who came out to his parents and a close circle of friends a little more than a year ago. "You try to not think that's what it really is, so I just tried to say it was nothing. Then you start to realize it's not really nothing."
Pucillo, the first openly gay Division-I national champion wrestler, said that part of his struggle to be open and honest about his sexuality stemmed from his private Catholic school upbringing that hammered in the point that homosexuality was a "bad thing." The physicality of wrestling didn't help things either.
"Wrestling is one of the toughest mentally, physically and manly sports there is," he said. "It's two dudes rolling around on a mat. People who don't know wrestling call them leotards. It's a joke, but it creates a built-in mechanism to say: 'I'm not gay. I'm too manly to be gay. I'm too tough to be gay."
Hearing the stories of out athletes like Dartmouth lacrosse player Andrew Goldstein, MLS player Robbie Rogers and retired MLB player Billy Bean, however, gave Pucillo the courage to embrace his identity.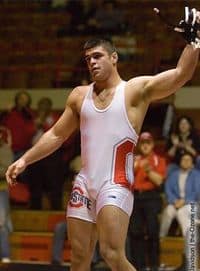 "It may have taken me 26 years to realize that maybe I can play a bigger role in somebody else's life and help somebody else's life like Robbie Rogers or (Goldstein did)," Pucillo said. "If I can do that for one person, it's worth it for everybody out there to know my story. … I know there's going to be people that don't like it. To those people, I would say, 'I've spent 26 years being uncomfortable. It's not my problem anymore.
"The only reason why I feel it's important to tell my story is I know there are a lot of other people out there that are like me who are in high school or about to go into college, whether it's wrestling or football or baseball or basketball or not in any sport, who are struggling with it," he said. "The more stories they hear about it, the easier it is for them."
Head over to TheOpenMat.com here for more on Pucillo's inspirational coming out journey.
Watch a video of Pucillo at the 2013 Las Vegas/ASICS U.S. Open, AFTER THE JUMP…
[photo via Facebook]
h/t Outsports