Former Scottish Cardinal Keith O'Brien, the anti-gay crusader who stepped down in 2013 after being accused of "inappropriate acts" with other priests, and later admitted having a long-term relationship with one of the priests whose accusations led to him getting sacked, will play no further public church role, the Vatican confirmed today.
The Guardian reports: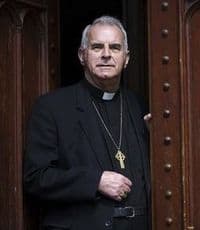 O'Brien will retain his title, but he will be reduced to a strictly private life. The resignation followed the decision by the pope to send a personal envoy, archbishop Charles Scicluna, to Scotland last year to investigate the allegations.
Francis reached his decision based on the inquiry. Its contents are fully known only to the pontiff and Scicluna. O'Brien's decision followed a private discussion with the pope.
"I wish to repeat the apology which I made to the Catholic church and the people of Scotland some two years ago now on 3 March 2013," O'Brien said in a statement. "I then said that there have been times that my sexual conduct has fallen below the standards expected of me. For that I am deeply sorry.
"I thank Pope Francis for his fatherly care of me and of those I have offended in any way. I will continue to play no part in the public life of the Church in Scotland; and will dedicate the rest of my life in retirement, praying especially for the Archdiocese of St Andrews and Edinburgh, for Scotland, and for those I have offended in any way."
The BBC has more on how the scandal went down here.