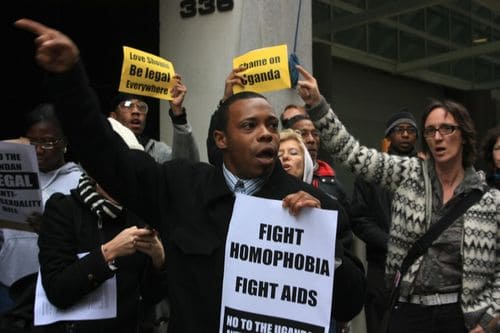 In 2009 David Bahati made a name for himself by introducing an early version of what would eventually become Uganda's Anti-Homosexuality Law. Colloquially known as the "Kill The Gays" Bill, Bahati's proposal argued in favor of punishing those thought to be "recruiting" children into the "homosexual lifestyle" with death. By the time the law was passed in 2013 the penalty of death had been reduced to life in prison, but the sentiment became emblematic of Uganda's social climate in regards to its gay population.
The law was repealed as a result of a procedural technicality, but Bahati and other members of the Ugandan Parliament have made clear their plans of reintroducing a similar bill. This past weekend Bahati reaffirmed his resolve to a new anti-gay bill and confirmed that the planning process is moving forward.
This time around, however, Bahati and Uganda's president Yoweri Museveni are likely to be faced by increased opposition from pro-gay Ugandan activists. Writing for The Daily Beast, Janson Wu, the executive director of Gay & Lesbian Advocates & Defender, explains that despite the country's hostility toward queer people, those on the front lines are mobilizing much in the same way LGBT activists organized in the US.
Rather than attacking the law individually, Wu explains, Ugandan activists are turning their sights towards the manifestations of institutional homophobia that paved the way for the law's creation:
"On a recent trip to Uganda, I met with local LGBT activists – and one lesson consistently emerged as key to their strategy: the fight for LGBT rights must be situated within a broader campaign for human rights and civil liberties.

This is how the early American LGBT movement began as well. It focused not solely on the equal rights of LGBT people, but on the constitutional liberties that all U.S. citizens – including LGBT people – are supposed to enjoy.

As the LGBT movement developed, the focus shifted to equal rights for LGBT people specifically.  This was justified in its time: equal treatment and protection of LGBT people under the law (removing all "gay exceptions" from the books) is essential to equal citizenship and dignity. However, as we begin to move beyond formal equality in the law in some areas of the country, we must also broaden our sights if we truly are to achieve equal justice for the LGBTQ community."
Read the full piece here.