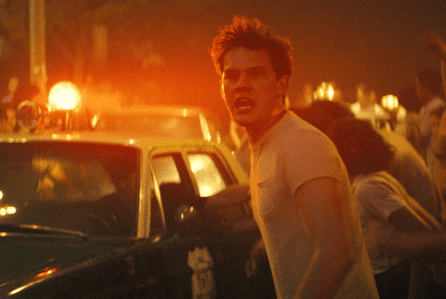 Stonewall, directed by Roland Emmerich, and starring Jeremy Irvine, Jonathan Rhys Meyers, Ron Perlman, Jonny Beauchamp, Caleb Landry Jones, Joey King, Karl Glusman, Vlademir Alexis, and Alexandre Nachi has been acquired for distribution by Roadside Attractions and is aiming for a fall release, Deadline reports:
Pic is set against the 1969 Stonewall Riots when the gay community rioted against a police raid that took place at the Stonewall Inn in Greenwich Village. At the time, it was illegal for gay people to congregate, and police brutality against gays went unchecked. Irvine plays Danny Winters, who flees to Greenwich Village after being kicked out of his parents' house. Homeless and destitute, he befriends a group of street kids who soon introduce him to the local watering hole The Stonewall Inn; however, this shady, mafia-run club is far from a safe haven. As Danny and his friends experience discrimination, endure atrocities and are repeatedly harassed by the police, a rage begins to build.
Emmerich rebuilt NYC's Christopher Street in Montreal to shoot the film and most of the characters are fictionalized.
More about its production HERE.