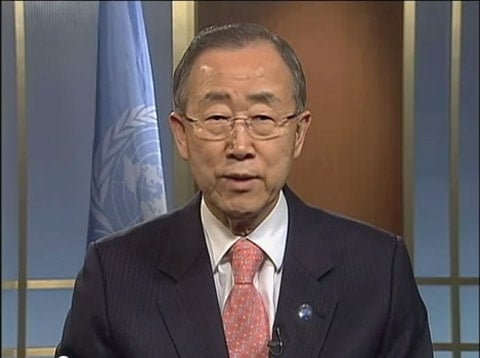 The UN budget committee has approved a plan proposed by Secretary-General Ban Ki-moon to offer benefits to all spouses of legally-wed gay UN staffers, the AP reports:
In Tuesday's vote, 43 countries supported a Russian-sponsored resolution that called for the U.N. chief's plan to be dropped while 80 countries opposed it and 37 abstained. Currently, family benefits for U.N. staff members are determined by their country of origin. The secretary-general's plan will give family benefits to all staffers who are legally married — regardless of the laws on same-sex marriage in their home countries.
Saudi Arabia, China, Iran, India, Egypt, Pakistan, and Syria joined Russia in opposing the benefits.
Reuters adds:
Russia wanted the 193-member General Assembly Fifth Committee, which deals with the U.N. budget, to overturn Ban's decision and had been threatening to put the measure to a vote since December.
Deputy Russian U.N. Ambassador Petr Iliichev said before the vote that the United Nations should return to how the issue was previously regulated, citing it as "an example of how the United Nations respects cultural differences, the sovereign right of each and every state to determine its norms."