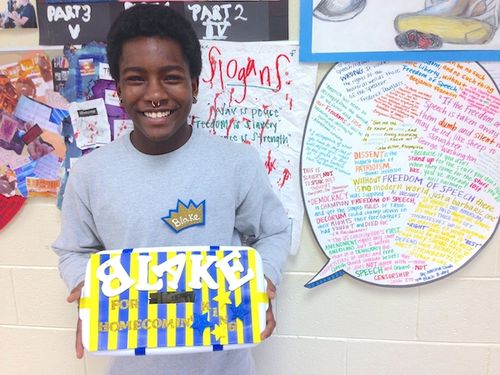 Back in February 2014 we reported on Blake Brockington a student at Charlotte, North Carolina's East Mecklenburg High School who became its first transgender Homecoming King. Brockington, who had a difficult childhood and coming out experience, hoped to win in order to set an example for other transgender youth.
Brockington took his own life on Monday.
The Time Out Youth Center confirmed his death on Facebook on Tuesday morning:
Time Out Youth is saddened by the loss of Blake Brockington. The center is open now and we invite youth and volunteers to join us in supporting each other today. Please keep Blake's friends and family in your thoughts today.
Blake had been living with foster parents last year while still in high school because his father would not accept his gender identity. His plans at the time were to attend the University of North Carolina.
Before being crowned Homecoming King, Brockington spoke with NC's Qnotes:
"I honestly feel like this is something I have to do," says Brockington, noting few other transgender male students have had the opportunity…
Brockington says winning will mean the most for several younger transgender students he mentors, including a nine-year-old boy.
"He really looks up to me. That's my heart," Brockington says of his mentee. "He has support now and he will be able to avoid just about everything I'm going through and I don't want him to ever have to be scared. I feel like if I do this, that's one red flag for everybody to say, 'Nobody should be scared to be themselves and everybody should have an equal opportunity to have an enjoyable high school experience.'"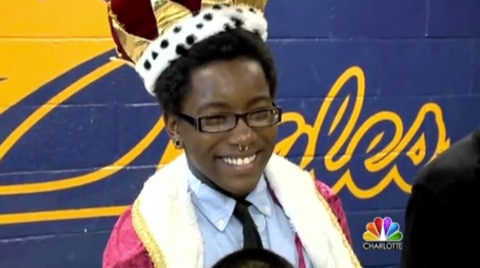 Youth in need of support in NC are encouraged to contact Time Out Youth,timeoutyouth.org, 704-344-8335. Their center is located at 2320-A N. Davidson St in Charlotte. Staff and counselors are available. Anyone wanting to talk with someone immediately can call the Trevor Project helpline at 1-866-488-7386 or reach them online at thetrevorproject.org.