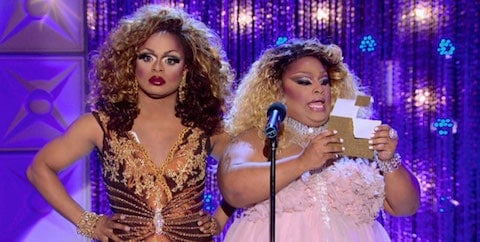 I know I'm not alone when I say that Snatch Game is my favorite Drag Race challenge. Historically, it's been the main challenge in episodes 4, 5 or 6. Given tonight's awards show-themed challenge (and next week's apparent acting challenge), I'm wondering where my damn Snatch Game is. In a season that's been pretty divisive among fans, a good Snatch Game is the kind of thing that could save this season. Bring it on, Ru!
Instead, the remaining queens tonight played a little red carpet dress-up and presented one another with some shady statuettes.
Ladies and gentlemen of the Academy, I submit for your consideration, this week's rankings, AFTER THE JUMP …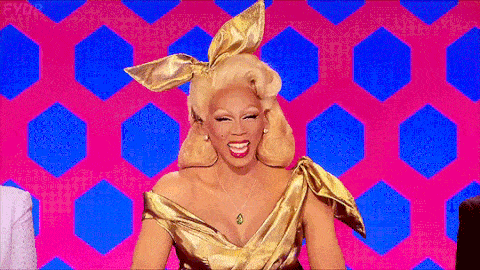 Tonight begins with a fun mini-challenge inspired by a Drag Race fan that recreates notable looks with nothing but paper. This time, pairs of queens would be making paper versions of famous red carpet looks like Gaga's meat dress, Bjork's swan and  Lil' Kim's boob-baring jumpsuit. The main challenge had the same pairs present at RuPaul's first DESPY Awards. They had to script out some witty banter (with a little guidance from Kathy Griffin) and then present across a variety of categories. Katya and Mrs. Kasha Davis, the winners of the mini-challenge, served as the hosts, opening the show. The other gals paired up to present awards to their fellow contestants in the categories Sexy Sexy Drag Queen, Most Busted Queen, the Shadiest Queen and Meatiest Tuck. Winners were chosen by group vote and would also be judged on their acceptance speeches.
Without further ado, the nominees rankings are:
1. Another week, another stellar performance from Ginger Minj. I don't know if she had the most brilliant material, but she commits to a joke and delivers it like a pro. Anyone would look like a hero next to Kandy, but Ginger still outperformed most of the other queens. Had she not been partnered with that Ho over there, she could've been a winner. In any case, it was great to see Michelle Visage really strain to offer her some criticism on that black spray on her forehead. Bit of a stretch, no?
2. I feel like Katya should be doing better than she is. She's quick-witted and her looks are more hits than misses. However, she seems to struggle with scripted schtick. Maybe she's just been sidled with lackluster partners. It makes me a little worried about next week's next acting challenge, but, good god gurl, she has the potential to shine in the Snatch Game.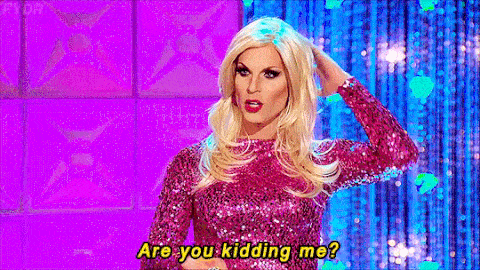 3. Oh, sweet, sweet Max. As the competition begins to heat up, will this eccentric queen's sensitivity lead to her getting eaten alive by her more vicious competitors? While she's stayed afloat (and even turned out on top) of a few of this season's challenges, I've yet to be really blown away by anything she's done. That said, in this bunch, that's still better than most.
4. When it comes to Pearl, don't call it a comeback. Not yet, anyway. After getting a kick in the rear from Ru in the work room, she upped the energy a touch in the main challenge. She still wasn't bouncing off the walls, but it was enough of a transformation to bring her from the bottom of the pack to this week's winner. Can she maintain this sort of effort? I think she can, for a few weeks at least.
5. I'll give Kennedy that joke about the wall clock (it was certainly a better alternative than the tired "number ten" joke she pitched in rehearsals), but otherwise, I wasn't very impressed this week. Worse yet, that line about Kandy's last name referencing that she's a whore was uninspired and lazy.
6. I haven't seen anyone miss a RuPaul joke set-up as badly as Miss Fame did tonight since Ru asked Ivy Winters (as Marilyn Monroe) if she was into politics. (Or when he asked Alyssa Edwards, as Katy Perry, if she ever kissed a girl.) Missed punchlines aside, Fame's runway look was extravagant (so much so that even Michelle Visage loved the green frock). I still think Fame has a shot at growing enough throughout the competition to make it to the finals (though next week's preview is giving me some pause).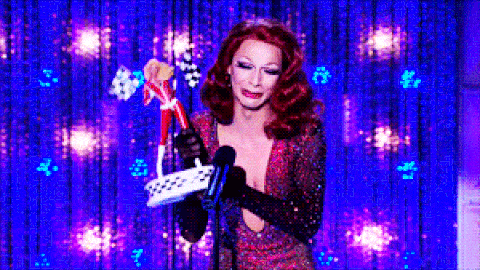 7. Was there really any chance that Violet Chachki wouldn't win for shadiest queen? Unlike Fame, Chachki's performances have been consistent. It's her personality arc that could keep her around. We started to see a softer side of Chachki tonight as she worked with Fame, and that story of softening up and letting people in is the kind of thing RuPaul (and the reality-TV audience) tends to eat up.
8. Jaidynn Diore Fierce is adorable, but, let's be real, she's not long for this competition.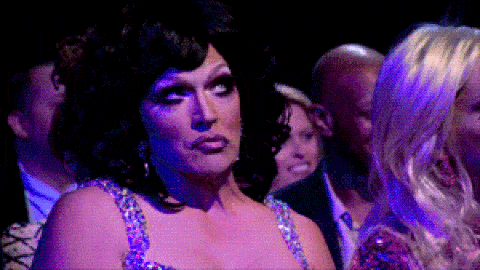 9. I was ready to love Mrs. Kasha Davis when she donned her finest Joan Rivers drag, but when it came time to slay the opening of the DESPY Awards, it was a real letdown. There wasn't a chance she was going to win this thing, so I'm not sad to see her go.
10. How is Kandy Ho still here? No, really, how? For all the jokes that fell flat tonight (I'd say it was 60-40, hits vs. misses), Kandy's bombed the hardest. Her runway look was ridiculous, and the lip sync was only alright. There just weren't any memorable moments. Miss thing has got to go.
How would you rank the queens?