This weekly travel column is brought to you by ManAboutWorld, an immersive digital gay travel magazine for iOS and Android devices from Billy Kolber, Ed Salvato, Kenny Porpora, and nearly 75 Global Correspondents.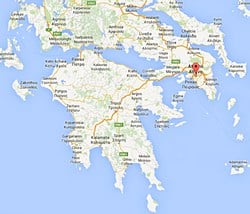 Athens gets a bad rap. For most Western gay travelers heeding the siren call of Mykonos and Santorini, it's an unavoidable waypoint, to be avoided except for a quick tour of the Acropolis. But stay long enough to explore, and you'll see how outdated that reputation is. While the country is grinding through its sixth year of recession, there's no mistaking the energy in the air, and for visitors this translates to a burgeoning street life that feels like New York's East Village 20 years ago when the first swanky cocktail bars were opening. There are new museums (the five-year old Acropolis Museum is a marvel); the city offers cutting-edge art galleries and performances; and there's a rapidly evolving food scene with a number of Michelin-starred restaurants muscling into Souvlaki land.
Neighborhoods once considered quite dull and pedestrian (to wit: Agia Eirinis' mid-level fabric district, yawn) have erupted in recent years as hot gathering places. Eirinis' labyrinthine streets are now punctuated by super cool spots with funky names (like TAF, see below), attracting hipsters à la Grecque (who can work thick beards like no other race on earth!). The limited gay bar scene starts quite late and Gazi, the gayborhood, is still a hot spot late at night though, like many Western gay ghettos, it seems to be on the wane, giving way to straight gentrification.
Athens is ready to reclaim the spotlight in any Greek itinerary. If you're heading to Mykonos or Santorini, take a few days to discover it. If you're coming for work, spend a few days to enjoy its pleasures. If you're coming for the beaches (and there are spectacular ones nearby), bracket your visit with the city's historic and modern urban appeal. An early June visit means lovely warm weather and Athens Pride, held June 13 in Klafthmonos Square. Whenever you visit, on your next trip to Greece, make time for Athens, but first be sure to check out our top five picks below.
1. New Hotel: This exciting, boundary-busting 79-room hotel with informal but efficient service is centrally located between the National Garden and the Acropolis just 200 yards from Syntagma Square. The New Hotel sports its Modernist Fifties facade proudly but inside it is cutting edge with its insides completely refashioned from the existing materials in whimsical and exciting ways.
2. Kuzina: This funky cool restaurant sprawls over several floors of a renovated 19th-century building. One floor is devoted to art. You can eat on the ground floor but it's best to schlep to the Terazza, the rooftop, which opens in early afternoon. It's best right at sunset.
3. TAF: TAF (the Art Foundation) is an incredibly cool multi-functional space offering drinks, art, culture and a buzzing hive of activity in a beautifully lit space. Hipsters and attractive Athenians of all ages and sexual orientations hoist craft brews and organic Greek wines while enjoying the latest art installation or live musical act. Our friends at GayGuide Greece have a full rundown of gay venues updated frequently.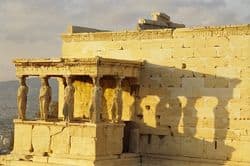 4. Acropolis & Acropolis Museum: The best way to see the Acropolis is in tandem with the stunning new Acropolis Museum. There are arguments for seeing each first — our recommended approach is to go to the Acropolis with a guide who can explain everything (and sneak you by some of the horrendous lines. Then head directly to the fabulous, beautifully designed museum to get some context. 
5. Astir Beach: Astir Beach located in Vouliagmeni is the most "in" beach where you'll find lots of men, including many closeted guys with their girlfriends. Rent a car for the day; take a taxi; or take the tram to Glyfada, then bus no. 114 or 116. The beach is clean and you can find many amenities (shops, cafe, restaurant, and sport facilities). There are even ruins (a temple to Apollo) so you know you're really in Greece.
For even more insider recommendations in Athens, Thessaloniki and our favorite islands, as well as opinionated travel information and inspiration for destinations in the U.S. and around the globe, get ManAboutWorld Magazine on iTunes (iOS) or Google Play (Android). 
Image credits: Top: Harvey Barrison; Right: Greg Neate; Bottom: Panos Asproulis