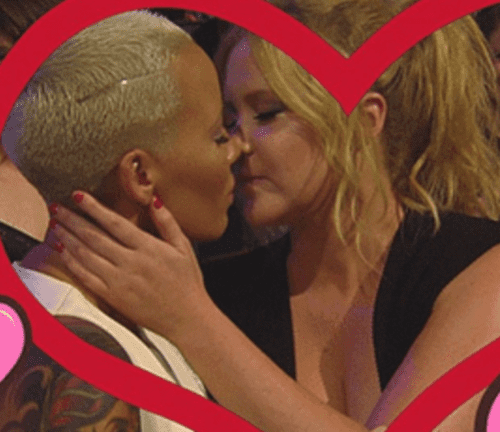 If you didn't catch the MTV Movie Awards last night, check out this highlight.
The show featured a "kiss cam," and most attendees seemed to play it pretty safe — not Amy Schumer and Amber Rose! When the camera turned to them, the comedienne and "gal-about-town" put on a little PDA. Via social media, Rose referred to herself as "def half lesbian" after the "makeout sesh."
The kiss was likely publicity for the pair's recent collaboration — Rose appears in the third season of Schumer's show; she's featured in an early promo. Specifically, the song "Milk Milk Lemonade," a raunchy parody of Iggy Azealea, "Anaconda," and what Schumer refers to as "the year of the ass." The third season of "Inside Amy Schumer" premieres April 21.
Check out a brief video of the kiss and "Milk Milk Lemonade" AFTER THE JUMP…