A group of four House Democrats have introduced a resolution "expressing the sense of Congress that gay, lesbian, bisexual, and transgender people should be protected from discrimination under the law," Indiana's WIBC reports.
"When intolerance occurs anywhere everyone has an obligation to take a stand and Congress doesn't get a waiver on that," House Democratic Policy and Communications Committee Chair Rep. Steve Israel (D-NY) said during a press call Monday, according to The Hill. 
Israel is joined by Reps. Jared Polis (D-CO), André Carson (D-IN) and David Cicilline (D-RI). Cicilline is currently drafting a comprehensive civil rights bill that he says will "cut through a patchwork of 50 state laws to make sure all LGBT Americans can enjoy their basic rights no matter where they live, work or go to school."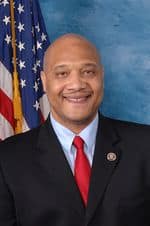 Added Rep. Carson (right) in a statement:
"Year after year, we see attacks on the LGBT community as governments at all levels look to institutionalize discrimination in the name of religious freedom.  Recently, we witnessed my home state of Indiana enact the Religious Freedom Restoration Act, giving businesses the right to refuse service based on sexual orientation and gender identity.
"In the wake of the backlash of Indiana's misguided law, it is clear that the vast majority of Americans oppose this type of discrimination.  It is long past time for Congress to ensure that all Americans, regardless of sexual orientation and gender identity, know that they are valued members of our society."