Last month we told you about a video in which Houston anti-LGBT activist Dr. Steve Hotze promoted a rally outside the Texas Capitol featuring Alabama Chief Justice Roy Moore.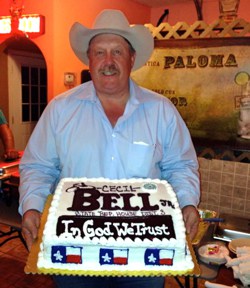 On Wednesday, Hotze took his message inside the state Capitol, where he testified in support of a bill from GOP Rep. Cecil Bell (right) that would prohibit state or local funds for being spent to issue or recognize same-sex marriage licenses. 
Hotze, president of the Conservative Republicans of Texas, was among 15 anti-gay witnesses who testified during the hearing, joining the likes of Texas Values President Jonathan Saenz and Texas Pastor Council Executive Director Dave Welch. 
The Texas Observer reports: 
Rep. Sylvester Turner (D-Houston), a member of the House Committee on State Affairs, grilled Hotze about whether he wants Texas to ignore "the law of the land" if the high court rules in favor of marriage equality.

"If you passed a law that we're going to go and round up people of an ethnic group and put them into jail and exterminate them, would you abide by that law?" Hotze responded. "What did they do in Nazi Germany? It was legal to round up Jews and put them in the chambers and kill them. And the defense they said is, that was the law."

After Turner suggested all people should be treated equally regardless of ethnicity or sexual orientation, Hotze said there's a difference because being gay is a choice.

"If people are involved in an activity that's immoral and wrong, you can love them but you don't respect what they do, and you try to help them find a way out," Hotze said. "Whether they're alcoholics, whether they're murderers, whether they're adulterers, whether they're perverts or pornographers or whatever, you want to help them out—or homosexuals, you want to help them out."
The bill, one of more than 20 anti-LGBT measures in Texas this year, was left pending after a two-hour hearing, and the committee chair told the Observer he's unsure whether he'll call it back up for a vote.
Watch a clip from Hotze's testimony, AFTER THE JUMP …