As you are probably aware, Baltimore erupted in riots following the funeral of Freddie Gray yesterday, the 25-year-old man who died while in police custody.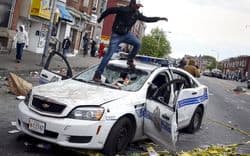 At least 15 police officers have been injured, and the National Guard has been called in. Businesses have been destroyed and looted, and vehicles set ablaze.
A 10 pm – 5am curfew has been instituted starting on Tuesday by Mayor Stephanie Rawlings-Blake, the Baltimore Sun reports:
She drew a distinction between peaceful protesters and "thugs" she said engaged in rioting Monday intend on "destroying our city."
"It's idiotic to think that by destroying your city, you're going to make life better for anybody," Rawlings-Blake said.
At Rawlings-Blake's request, Gov. Larry Hogan signed an executive order declaring a state of emergency and activating the Maryland National Guard. The order does not affect citizens' rights, but is required to activate the Guard and authorize federal assistance, Hogan spokeswoman Erin Montgomery said. It is not "martial law," Maryland National Guard Adjutant General Linda Singh said.
The governor is sending 500 state troopers to Baltimore and requesting as many as 5,000 officers from neighboring states, he said in a press conference.
Let's hope for peace.
📷 Fire dept still on scene N. Chester St 3 Alarm fire aftermath #Baltimore #BaltimoreRiots pic.twitter.com/C3OOjl67Tk

— Brad Freitas (@NewsChopperBrad) April 28, 2015