Jeremy Bernard, who was appointed White House Social Secretary in February 2011 and is the first man and the first openly gay person to hold the position, will step down next month, the Washington Post reports: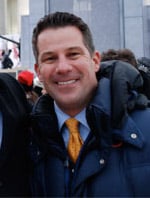 Bernard, 53, broke a gender barrier when he stepped into a job that had always been held by women. He was also the first openly gay secretary in the job. At once, he melded into the fabric — hanging back as he oversaw Michelle Obama's vision of transforming the White House into a more casual "people's house" — and became a popular figure on Washington's social scene, frequently dining at trendy 14th Street restaurant Le Diplomate and regularly attending events at foreign embassies. He even showed up in the pages of Women's Wear Daily and Vogue.
While no one, least of all Bernard, is sure of his next move, friends speculate that time off is in the cards, and then, perhaps, a return to political consulting and fundraising, which he did before joining the Obama White House in his current role.
Said First Lady Michelle Obama in a statement:
"For the last four years, Jeremy has worked tirelessly to open the doors of the White House to as many people as possible and to make each and every event in the White House one to remember, not only for Barack and me, but for the tens of thousands of guests who pass through our doors each year.  I was lucky to have such a talented individual on my team, and I am equally lucky to have made a lifelong friend in Jeremy. Jeremy will be missed, and Barack and I wish him the very best in all of his future endeavors."
Bernard released a statement as well:
"It has been an honor to serve the President and Mrs. Obama as Social Secretary for the last four years.  From State Dinners to Student Workshops to celebrating the holiday season, Mrs. Obama has welcomed every guest to the White House with her signature warmth, grace and style.  I feel so privileged to have worked for such an extraordinary President and First Lady."
Prior to his job in the White House, he was a California Finance Consultant for the Obama for American campaign.  Appointed by President Clinton, Bernard also served on the President's Advisory Committee on the Arts for the John F. Kennedy Center for the Performing Arts and was a member of the Democratic National Committee from 2001 to 2009.  He previously served as a board member of A.N.G.L.E. (Access Now for Gay & Lesbian Equality) and the National Gay & Lesbian Victory Fund.  He was also a member of the Los Angeles County Sheriff's LGBT Advisory Committee, the Los Angeles Police LGBT Advisory Committee and the Los Angeles Mayor's LGBT Advisory Committee.