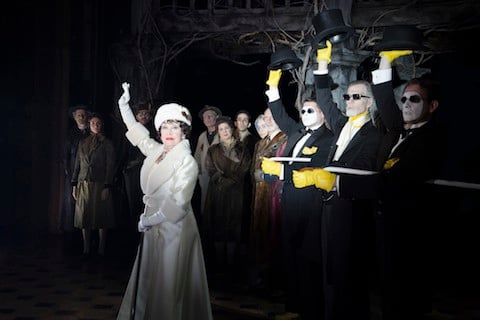 BY NAVEEN KUMAR
There are a lot of questions begged by The Visit, an unequivocally strange new musical that opened last night at the Lycium Theatre — i.e. "On what dark planet is this story set?" "Who are those blind eunuchs and why are they wearing white-face?" and, "How did this daring but slight musical find itself on Broadway?" There is only one answer, and she is the legendary Chita Rivera: the two-time Tony Award winner known for her half-century-long career and formative place in American theatre, giving what may be one of her final performances on stage.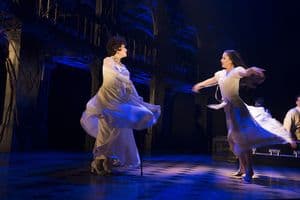 Of course, there are also its creators, John Kander and the late Fred Ebb, the songwriting team behind shadowy mega-hits like Chicago and Cabaret, and book writer Terrence McNally, represented down the block with It's Only a Play. There is an unmistakable thrill to seeing Rivera in a new work from the storied scribes (the final one for Kander and Ebb), and her inestimable talent comes superbly alive in every moment she's on stage. That she holds your attention from wandering too far into sea of question marks that surrounds her is probably for the best.
Based on a 1956 avant-garde satire by Friedrich Dürrenmatt, the story centers on a wildly wealthy woman, Claire Zachanassian, making a return visit to her small hometown, which has fallen into destitution. When she ran off in her youth, she left behind a great love, Anton Schell (Roger Rees), who now has his own family. Claire married rich many times to make her fortune, and upon her return, the townspeople are desperate to get their hands on it. She has a sinister plot up her sleeve to prove vengeance is best served cold, which, once revealed about midway through the intermissionless show, helps explain some of its more bizarre elements.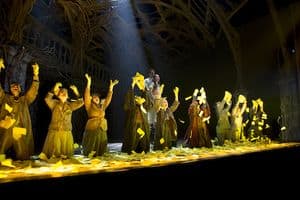 An attempted meditation on greed, lust, and revenge, the story feels more like a rickety framework on which to hang an array of mostly unrelated (but not unenjoyable) songs by Kander and Ebb, strung together by characteristically rote dialogue from Mr. McNally. The musical, which first premiered in Chicago in 2001 and is directed here by John Doyle, plants its feet in two camps: one the macabre, cold-hearted revenge story, and the other a sort of wistful, sentimental tale of lost love. The uneasy combination never quite manages to find solid ground.
As befits its outsider-stepping-in story, The Visit's cast of players is likewise split. The Brechtian company, smeared with sooty makeup, acts mostly like a presentational chorus, speaking in exposition and turns of plot. Rivera, on the other hand is fully flesh and blood (and occasionally fur), delightfully vindictive and coolly droll, commanding the stage with a single lingering look or turn of phrase. Her coyly sympathetic characterization of Claire is the captivating center of an otherwise ponderous and mottled show. Fortunately, she's likely the reason for your visit, too.
Recent theatre features… 
New Musical 'Something Rotten!' Brings Shakespeare and Sex Puns to Broadway: REVIEW
Alison Bechdel's Graphic Novel Comes to Broadway in New Musical 'Fun Home': REVIEW
Kelli O'Hara and Ken Watanabe Open In Lavish Broadway Revival of 'The King and I': REVIEW
Matthew Morrison and Kelsey Grammer Open in 'Finding Neverland' on Broadway: REVIEW
Ballet Meets Broadway in Dazzling New Musical 'An American in Paris': REVIEW
'90s Political Sex Farce 'Clinton the Musical' Opens Off Broadway: REVIEW
Possessed Puppet Comedy 'Hand to God' Opens on Broadway: REVIEW
Carey Mulligan and Bill Nighy Open in 'Skylight' on Broadway: REVIEW
Follow Naveen Kumar on Twitter: @Mr_NaveenKumar (photos: thom kaine)