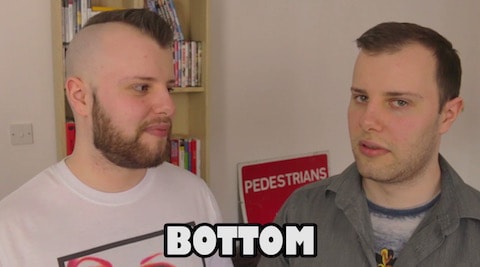 Like most subcultures, ours contains a colorful lexicon that is nigh incomprehensible to outsiders, and trying to educate them can be an entertaining task. It was nothing but smiles when I showed a straight couple I knew an excerpt from Paris is Burning to explain "reading" and "shade", and even then they only kinda-sorta got the concepts.
Jacob Trueman decided to take on this task and quiz his brother Mike on the latest gay slang. He then posted the results to their YouTube channel, The Fratocrats, for all of us to enjoy.
Mike handled everything rather well – even with Jacob constantly screwing with him – and made some rather creative interpretations, compared to my straight best friend who, when I listed the menagerie of "types" in the gay community, quipped something to the effect of, "Do you all have this listed somewhere? A Bestiary of Dire Chromatic Gays or something?"
You can watch the vocabulary test and head games AFTER THE JUMP…