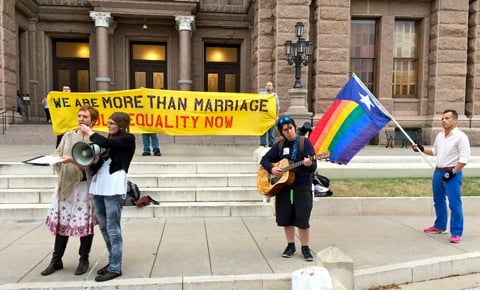 GetEQUAL is staging rallies across the country in response to anti-LGBT legislation similar to Indiana's "religious freedom" law.
From the website for the group's #HateOutbreak campaign:  
Across the country, religious extremists are introducing bills in state legislatures that would give carte blanche privileges to legally discriminate against anyone — simply by invoking one's religion as the reason. 

We've all seen the negative response to Indiana's right to discriminate law but this #HateOutbreak is bigger than the Hoosier state. The surge in legislation aimed at legalizing discrimination, disguised as religious freedom, has many asking what can we do to fight back. 
On Saturday, nearly 100 people gathered at the Texas Capitol to protest a record number of anti-LGBT bills in the state Legislature. Among the speakers was Austin Mayor Steve Adler, who warned that Indiana-style legislation could threaten the city's booming economy. From the Texas Observer: 
"Apple is here, Google is here, because the people who work for Apple and Google, they want to live here," Adler said. "It's real important that we not go down that path, and it is scary to me that our state Legislature right now is considering doing that."
The Austin rally was one of three planned in Texas over the weekend. Rallies were also planned in Gainesville, Fla., and Winston-Salem, North Carolina, on Monday. 
Watch video of openly gay former Texas state Rep. Glen Maxey speaking at Saturday's rally in Austin, AFTER THE JUMP …