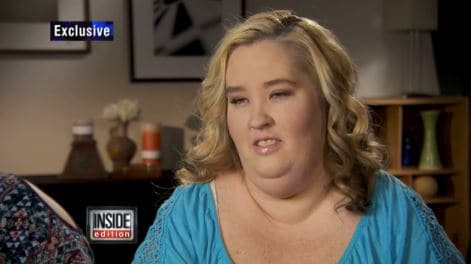 June Thompson, better known as the matriarch to one Honey Boo Boo and co. has come out as bisexual in an interview with her third eldest daughter Lauryn (Pumpkin), who also now identifies as bisexual.
Lauryn sat down with Inside Edition to discuss her personal life as the Thompson family figures out its next steps following the cancellation of TLC's infamous Here Comes Honey Boo Boo. The network moved to cancel the show last fall after it was discovered that June decided to maintain a relationship with Mark McDaniel, a man who had molested her eldest daughter Anna at the age of eight.
"I'm attracted to females, and I'm attracted to males," Pumpkin, who is 15, insisted. "You cannot hide who you truly are. She's gay too. June is gay too."
June was quick to clarify that while she'd had a number of sexual experiences with women in the past, she merely thought of herself as being bisexual.
"It's no big deal, I was young and experimented with it, never went pro though just played the minor leagues," June explained, saying that she wasn't all that worried about what people might think. "I look at it this way–haters are gonna hate."
Check out a clip of the interview AFTER THE JUMP…(warning: autoplay)
(h/t TMZ)