A court challenge  to New Jersey's ban on harmful 'conversion therapy' for minors led by the hideously anti-gay Liberty Counsel was rejected by a federal appeals court on Monday, Reuters reports: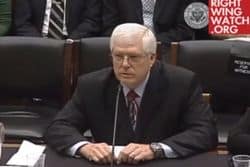 By a 3-0 vote, the 3rd U.S. Circuit Court of Appeals said the ban did not infringe the First Amendment rights of minors and their parents to receive information and exercise religion, or the rights of parents to decide how to raise their children.
The challenge came from a 15-year-old boy known as John Doe, who claimed to suffer from anxiety, panic attacks, self-hatred and suicidal thoughts as he struggled with his sexual identity, and his parents, who said they had sincere religious beliefs that homosexuality was sinful and harmful.
The family plans to appeal to the U.S. Supreme Court, said their lawyer, Mathew Staver (pictured).
The appeals court cited a ruling from September 11 of last year in which the law was also upheld.
Said Circuit Judge Dolores Sloviter: "The listener's right to receive information is reciprocal to the speaker's right to speak. The fundamental rights of parents do not include the right to choose a specific type of provider for a specific medical or mental health treatment that the state has reasonably deemed harmful."