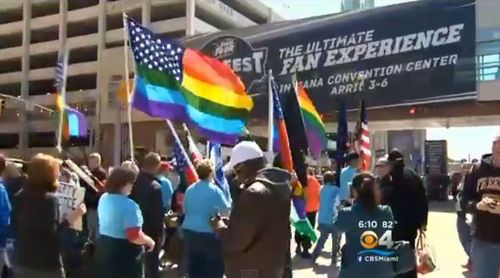 With all eyes still on Indiana as the Final Four NCAA men's basketball championship kicked-off in Indianapolis yesterday, LGBT advocates continued to hold a spotlight on the fact that despite Gov. Mike Pence's "fixed" religious freedom law, it remains completely legal in the state to discriminate against an individual based on their sexual orientation or gender identity. 
The AP reports on the hundreds of people who marched through downtown Indianapolis yesterday calling for statewide LGBT nondiscrimination protections:
March organizer Dominic Dorsey II told the crowd as it gathered on the steps of the city's Monument Circle that the Legislature's move was only a beginning. He said lawmakers now need to add legal protections to state law to prohibit workplace discrimination against lesbian, gay, bisexual and transgender people.
"This new language that they've added is like stabbing somebody in the back and then pulling it out three inches and saying, 'You're all right, right? We're good now, right?" he told crowd, which shouted back "no!"
Dorsey then led the gathering in chanting "Hoosiers don't discriminate! — No more Band-Aids masking hate!" as they began a march that carried them several blocks past the city's business district, bars and restaurants to the Lucas Oil Stadium, home of this year's men's Final Four.
Progressive advocacy organization MoveOn.org flew a banner reading "Sir Charles is Right: Discrimination is Wrong" over the stadium twice yesterday. The banner was in reference to former NBA star Charles Barkley, who has been vocal in his opposition to Indiana's "license to discriminate."
The National Association of Basketball Coaches also hosted a panel at its convention Saturday aimed at speaking for gay and lesbian athletes. Derrick Gordon and Jason Collins were in attendance. 
The Indianapolis Star meanwhile has also called for full, statewide LGBT protections.
From the paper's editorial board Friday:
Now we need to set out on the path to make Indiana a symbol of equality for all. That means enacting a state law that fully prohibits discrimination in employment, housing, education and public accommodations in all forms.
Let's send a resounding message, unmistakable in clarity: Indiana welcomes everyone. Indiana values everyone equally. Indiana will not tolerate discrimination against anyone.
We are Indiana, a state of fairness and equality.
Check out footage from yesterday's march, AFTER THE JUMP…