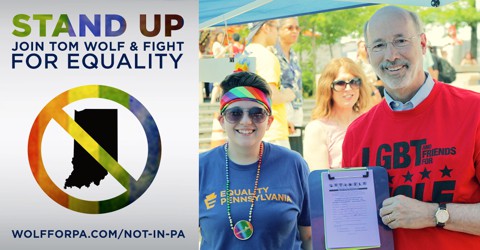 Indiana's "religious freedom" law is the gift that keeps on giving. 
In the latest example of how backlash over the law is fueling the push for LGBT protections in other states, Democratic Gov. Tom Wolf (above right) launched a petition this week calling on lawmakers to add sexual orientation and gender identity to Pennsylvania's nondiscrimination statutes. 
Wolf announced the petition in response to a letter from four members of the Pennsylvania LGBT Equality Caucus, who said of the Indiana measure: 
This new law is tantamount to a resurrection of Jim Crow. It flies in the face of all the progress our nation has made on civil rights issues. Although any group can be victimized by this new statute, we know that the catalyst for it was the expansion of gay rights in recent years. Thus, as members of the LGBT Equality Caucus, we feel we have heightened standing to raise this issue.

If this law stands in Indiana, it is likely to metastasize to other states fairly quickly. Just yesterday the Arkansas legislature passed a similar bill. Governor, we urge you to stand with the people of Indiana and the nation in making it clear that this sort of law is unacceptable.

Here in Pennsylvania, while we do not have the sort of aggressive endorsement of discrimination that the Indiana law represents, we still do not have a statewide anti-discrimination law that covers members of the LGBT community. While many of our municipalities have passed their own anti-discrimination ordinances, many of our citizens still have no legal protection against the sort of bigotry that results in people being denied service by private companies. We urge you to redouble your efforts to work with the legislature to pass a bill that you have already said you will sign.
Wolf wrote in an email announcing the petition:   
I simply don't understand what the Governor of Indiana was thinking when he signed a bill that allows discrimination against people based on who they love.

It's not only wrong on a human level, but also ill-advised for attracting businesses and creating jobs in today's global economy. …

Without a non-discrimination law, LGBT Pennsylvanians and their families can be fired, denied a mortgage, or refused service at a hotel, library, or even a hospital.

That's not welcoming, and that's not right. Make a stand for fairness and equality here in Pennsylvania — sign the petition and tell the legislature to pass a non-discrimination law. 
Sign Wolf's petition by going here.