Michigan's Republican governor says he will veto a proposed Religious Freedom Restoration Act unless it is accompanied by a bill creating statewide LGBT protections.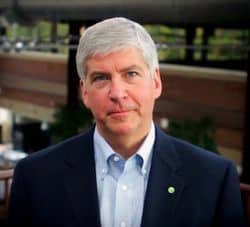 But LGBT advocates say that's not enough. They want Gov. Rick Snyder (right) to press harder for LGBT protections and veto the RFRA no matter what. 
The debate in Michigan reflects the new landscape surrounding religious freedom laws in the wake of backlash over similar measures in Indiana and Arkansas.
MLive.com reports on Snyder's veto threat:
Dave Murray, a spokesman for Snyder, said Snyder plans to veto any standalone legislation similar to the controversial law passed in Indiana this month. He would consider a RFRA bill if there was also an expansion of the Elliot-Larsen Civil Rights Act to include protections for gay people.

"Gov. Snyder has said he supports religious freedom but strongly opposes discrimination of any kind," Murray said. "He believes he should support constitutional protections and strike a balance."

He added, "Ensuring freedom of religion is a basic founding principle of our country but so is equality."
A proposal to expand the Elliot-Larsen Civil Rights Act died in committee last year after Democrats said they wouldn't support it because it didn't include transgender protections. Meanwhile, the author of the RFRA bill, GOP Rep. Mike Shirkey, says he will continue to push it despite veto threat. From the Associated Press: 
Sen. Mike Shirkey (right), a Clarklake Republican and sponsor of the religious objections bill, said Snyder's veto threat shows that he is "not too willing to have a conversation about it." The religious liberty bill and the anti-gay discrimination bill are "apples and oranges," Shirkey said, arguing that the business community's backlash over Indiana's law is "hypocritical" because 19 other states have similar laws.

"Some of these very large corporations make millions and millions of dollars selling and marketing their products in countries who have horrible civil rights environments," he said.

Shirkey said his legislation would prohibit laws and ordinances that infringe on people's "strongly held" religious beliefs and "has nothing to do with private actions" such as a business refusing to serve a customer.
Equality Michigan says Shirkey's RFRA bill is dangerous even if it is accompanied by LGBT protections. From the AP:
Equality Michigan, an LGBT advocacy group, said it "appreciates" that Snyder supports updating the 1976 civil rights law.

"However, Michigan will not benefit from a so-called Religious Freedom Restoration Act, and packaging these bills together could still harm Michigan families and bring the type of justified uproar to Michigan that Governor Snyder is trying to avoid," executive director Emily Dievendorf said in a statement. "We call on the Governor to press harder for passage of an amendment to the Elliott-Larsen Civil Rights Act and that he veto any Religious Freedom Restoration Act, regardless of what it is packaged with."
Progress Michigan added: 
"If the Governor is serious about his commitment against discrimination, he should demand that Attorney General Bill Schuette retract his suit in defense of Michigan's discriminatory marriage ban," Scott said, "and call on the Legislature to immediately pass an updated version of the Elliott-Larson Civil Rights Act to protect the entire LGBT community."
In addition to the RFRA, Michigan lawmakers have introduced proposals to allow adoption agencies and hospitals to deny services based on sincerely held religious beliefs. 
In related news, Nevada's own "religious freedom" bill has been declared dead.