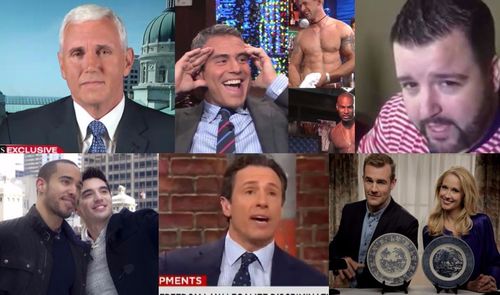 Need a refresher on all the informative, uplifting, sexy, and entertaining LGBT videos from this past week?
Look no further as we count down the best of the best, AFTER THE JUMP…
10. Conan Welcomes Indiana's 'Religious Freedom Czar' to Explain the State's New Law
Conan O'Brien welcomed Indiana's 'Religious Freedom Czar' Don Biederman (Chris Parnell) to his show Tuesday night to defend the state's anti-gay "religious liberty" bill.
"This law prevents discrimination against good, church-going folks who just want their businesses homosexual free."
Biederman claims he can also identify homosexuals because of his extensive research watching gay adult films, downloading Grindr, and frequenting "some of the hottest gay nightclubs locally."
9. Florida Bakery Receives Death Threats After Refusing to Bake Anti-gay Cake for Televangelist Troll
We already know there's a big difference between bakeries refusing to make certain goods for gay customers and bakeries refusing to make goods with slurs or hurtful messages, but you'll have to forgive the reactionary loons like former televangelist Joshua Feuerstein who still haven't figured that out just yet.
8. The Washington Post's Jonathan Capehart: Stop Accusing Apple CEO Tim Cook for Gay-Rights 'Hypocrisy'
Incensed by Indiana Gov. Mike Pence bowing under corporate pressure from Apple CEO Tim Cook and other business leaders by signing a "fix" to his state's discriminatory "religious freedom" law, a number of right-wingers pounced on what they saw as an example of left-wing hypocrisy: Cook speaking out on anti-gay laws here in the U.S. while staying silent on anti-gay laws in other countries Apple does business with.
The Washington Post's opinion writer Jonathan Capehart explains why this outcry is "rather facile" in the video below:
7.  Steve Grand's 'Time' Video Charts the Course of a Love Affair
There are many relationships that await us in life and you could meet your next guy because you missed a train. Singer-songwriter Steve Grand takes a look at the highs, the lows, and the possibilities in the video for "Time", a cut off of his new album All-American Boy, featuring model Daniel Williams.
6. Sen. Tom Cotton (R-AR) Thinks Gays Should Be Thankful Indiana Doesn't Hang Them Like Iran
Drawing the wrath of both Dan Savage and Miley Cyrus this past week, Sen. Tom Cotton told CNN's Wolf Blitzer that critics of Indiana's "religious freedom" law should get "perspective" because the state doesn't execute gay people like Iran.
5. Andy Cohen's Top 5 Shirtless Moments from Watch What Happens Live! 
Things can sometimes get a little kinky in the Bravo Clubhouse, much to Andy Cohen's delight. In a new video, the late night chat show offers up a few moments which guests weren't shy about stripping down.
4. Georgia Florists Proud to Say They'll Refuse to Serve Gay Couples (Adulterers And Other 'Sinners' Welcome Though)
"[Jesus] died on the cross for me, so that's the least I can do for Him," said Georgia florist Melissa Jeffcoat after being asked why she'd refuse to provide flowers for a gay couple. Jeffcoat later added that she would have no problem serving adulterers or those who don't honor their father and mother. Any guesses why that is?
3. Chris Cuomo Tears Into Family Research Council Hate Leader Peter Sprigg Over Indiana's 'Religious Freedom' Law
CNN's Chris Cuomo continued his winning streak against anti-gay right-wingers in a spirited debate with Family Research Council's Peter Sprigg this past week, with Cuomo asking Sprigg point blank:
"What is it about someone being gay or someone wanting to marry someone of the same sex — what is there in that that is keeping you from being the Christian you want to be?"
2. Bigoted Shopping Network Hosts Interrogate Gay Callers in Funny or Die Spoof of Indiana's 'Religious Freedom' Law
James Van Der Beek and Anna Camp play a pair of bigoted home shopping network hosts who, thanks to Indiana's original "religious freedom" law, are now free to refuse to do business with icky gay customers.
Trying to find out whether each caller is gay or straight, however, makes for some rather uncomfortable home shopping.
1. Indiana Gov. Mike Pence's Train-wreck Interview with George Stephanopoulos
The interview that helped Indiana's "religious freedom" debate snowball into an avalanche, Gov. Mike Pence repeatedly deflected questions from This Week host George Stephanopolous on whether his state's new "religious freedom" law would be used to discriminate against gays and lesbians.
Pay attention 2016 GOP hopefuls, because if you're going to side with anti-LGBT discrimination this election you better be able to articulate your hate better than this.