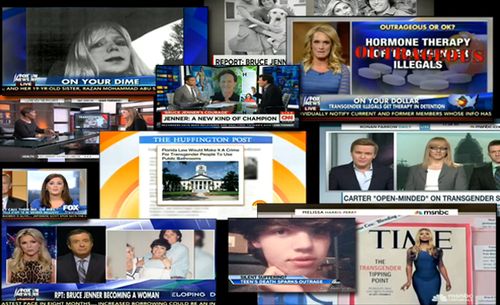 Media Matters has published an extensive report showing that cable, broadcast, and Spanish language networks have ignored an epidemic of violence against transgender women in 2015 despite (most of them) devoting coverage to trans issues.
Among the findings in the report, which covered the first two months of 2015.
CNN and MSNBC devoted nearly 108 minutes to transgender stories combined in January and February while FOX News devoted 11 minutes.
CBS devoted 10 minutes while NBC devoted 6 and ABC a paltry 2.
Bruce Jenner, Chelsea Manning, Leelah Alcorn were the most discussed transgender stories.
Only one Sunday show, MSNBC's Melissa Harris-Perry, discussed trans issues.
Networks ignored an "epidemic of deadly violence" against transgender women.
National News Networks Largely Ignored The Murders Of Seven Transgender Women Of Color. ABC, CBS, Fox News, MSNBC, and NBC ignored the murders of seven transgender women of color during the first two months of 2015. CNN's Don Lemon briefly mentioned the murder of three of the women during a discussion about Bruce Jenner during the February 5 edition of CNN Tonight.
Fox News,  ABC, And NBC failed to host transgender guests when discussing trans issues – CNN's trans guests were white while MSNBC featured trans women of color.
Univision and Telemundo devoted less than 10 minutes to trans issues.
Read the full report here.