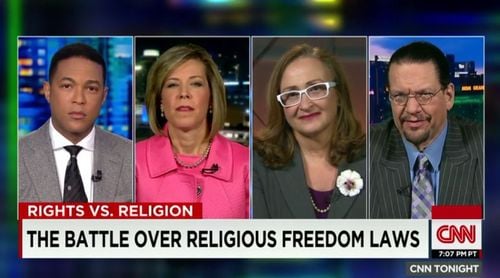 CNN host Don Lemon, joined by Alliance Defending Freedom's Kristen Waggoner, ACLU's Rita Sklar and comedian Penn Jillette earlier this week, discussed the growing battle over "religious freedom" laws that have popped up in states like Indiana, Arkansas and Georgia recently. 
Jillette put his comedic spin on the situation, saying:
"I don't want to misrepresent myself as an expert, but there is more to gay sex than cake and flowers…We have to make sure we don't get too crazy in the hypotheticals. We are not talking about forcing people to engage in gay sex or even endorse gay sex. We're asking them that maybe they can treat people the same as other people and that does not seem unreasonable."
Waggoner attempted to compare Indiana's original, "unfixed" #RFRA law with the federal 1993 law, while Sklar pointed out the anti-LGBT animus driving much of the push for these types of bills.
Watch, AFTER THE JUMP…