Rush Limbaugh defends Indiana's anti-gay law because man-on-dog marriage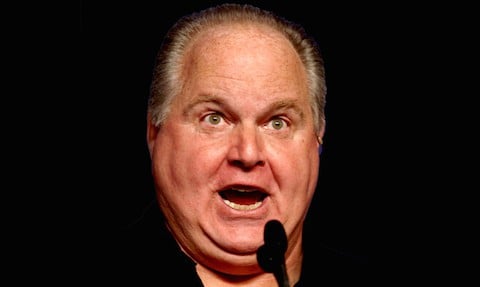 Good old Rush Limbaugh. Not content with claiming that same-sex marriage will lead to incest, he's now got a bee in his bonnet because you might want to marry your dolphin or something.
Addressing the backlash to Indiana's 'right to discriminate' law on the March 31st edition of The Rush Limbaugh Show, he argues that the ban is "not about honoring…discrimination against homosexuality, it's about people whose religious beliefs prohibit them from engaging in activity which lends credence in support of gay marriage."
Nothing out of the ordinary so far. However, Limbaugh goes on to claim that a "UK woman who wanted to marry her dog…I think..and did…you remember that? She married a dolphin..ok, whatever. She wanted to marry an animal that was not a man…"
Listen via Media Matters to Limbaugh lose touch with all sense of reality, AFTER THE JUMP…
In recent days, NIKE, New York Governor Andrew Cuomo, NASCAR, Gap and many other individuals and organizations have spoken out against Indiana's anti-gay law.