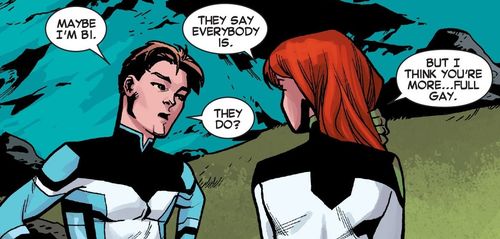 The Interplay is a special biweekly series exploring the intersections of sex, pop culture, and current events.
Yesterday, word broke that a young Bobby Drake, transported to the future at the beginning of Marvel's All New X-Men, was actually one of Marvel's few gay, active superheroes. Fans were sent reeling by the revelation, considering the older Iceman's storied history of being a ladies' man and Jean Grey's suggestion that the older Bobby was, (probably) still straight. In readers' defense, some of the confusion was understandable.
Unlike other alternate versions of fan-favorite characters who are revealed to be gay, this version of Iceman wasn't from an alternate reality or timeline. Rather, this teenaged Bobby Drake was simply from the past and he was outed by a Jean Grey who, in her time, didn't yet have access to her telepathy. Technically speaking this Bobby is the same one that we've known all along. 
Speaking to MTV News, Marvel Editor-in-Chief Axel Alonso explained the editorial decision to out young Iceman as being gay. According to Alonso the plot twist isn't just a narrative stunt or Marvel attempting to meet a diversity quota.
"It was our subsequent conversations about what the next story would be that really sold me," Alonso explained. "This is a character with decades of history, and one who we've seen falter on the romantic stage — more than once. So the seeds were always there."
The "seeds" that Alonso is describing are a few decades' worth of failed relationships with women that Bobby, try as he might've, simply couldn't maintain. Magneto's daughter Polaris, Mystique, Kitty Pryde, and a human woman named Opal who attempted to trick Bobby into fatherhood make up his extensive roster of a romantic rogues gallery. Before, it was easy to look at Iceman's dating history as a whole now, and see a stereotypical casanova. With these new assertions (and discrepancies) about his sexuality, though, Marvel is addressing sexual identity in a much more interesting and authentic way. 
CONTINUED, AFTER THE JUMP…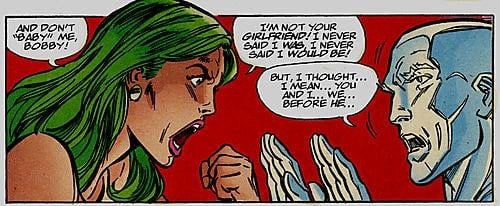 Iceman first appeared in the very first issue of the Uncanny X-Men in 1963. The 60s were a time in which sodomy laws were just beginning to be repealed throughout the U.S. and pro-queer activists were still actively fighting to have homosexuality de-listed as a mental affliction in the DSM. Though we may look at Bobby Drake through modern eyes and interpret the revelation about his sexuality as revisionist, what All New X-Men writer Brian Michael Bendis is doing is telling a very real story about people for whom coming out wasn't necessarily an option.
Marvel characters like Northstar, Xavin, and Karolina Dean are as fantastic for their superpowers as they are for their abilities to come out as fully formed queer people within the span of a few issues. There's long since been a demand for more LGBT-identified people in comics, and gradually people that look and love like us are beginning to pop up on the page. For every young person that's able to come out of the closet at a young age to relatively open arms, however, there are those people for whom coming out of the closet can take a lifetime.
In that way, Bobby's story is a lot like that of so many people who struggle with accepting their sexual identities. For some the realization that they're gay comes much later in life, though it doesn't necessarily mean that the romantic and sexual relationships that they had were for nothing. The Bobby Drake that we knew isn't gone, explains Marvel Editor-in-Chief Axel Alonso. He's just more complicated than we ever really knew to give him credit for. 
"We look at this as being one shading of who he is," says Alonso. " By that I am not saying you are not going to recognize Bobby Drake anymore. If you were a fan of Bobby Drake before, if you cared about him, I think this will draw you closer to the character, not push you away from him."